Ken Venturi Proton Golf Tournament, Palm Springs, CA, May 2013
The Ken Venturi Proton Golf Tournament, held on May 20, 2013 at the Club at Morningside in Palm Springs, was dampened only by Ken Venturi's recent death. He was a personal friend of Dr. James Slater and a great supporter of Loma Linda University Medical Center and the Proton Treatment Center. Though the thought of cancelling the Golf Tournament had been considered, it was felt that Ken himself would have wanted this great legacy to continue, and the record turnout confirmed that.
BOB Reunion, Oahu, HI, April 2013
BOB Reunion, Albuquerque, NM, December 2012
A special Loma Linda Comes to You reception and former patient and BOB reunion was held at the Albuquerque Central Seventh-day Adventist Church. Attendees included people from Kentucky, Colorado, California, New Mexico and Texas.
Proton Golfers Alumni: July, 2012
BOB members from several states met for the fifth year in Carson City, Nevada. The PGA annual event is hosted by BOB member, Steve Weitzman and his wife, Sue. It began with an ice cream social and ended with a banquet. Steve presented a check for $5,500 for proton research.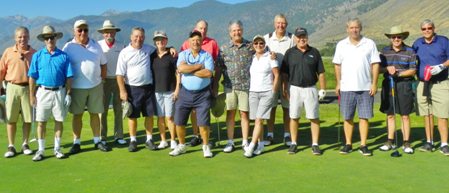 BOB Reunion, Las Vegas, NV, June 2012
Seventeen people gathered at Paradise Seventh-day Adventist Church in Las Vegas, Nevada for a reunion in June, 2012. Dr. J. Lynn Martell hosted the event. New Advisory Council and BOB member, Charlie Mack was there with his wife, Phyllis (far left) along with several other happy former proton patients.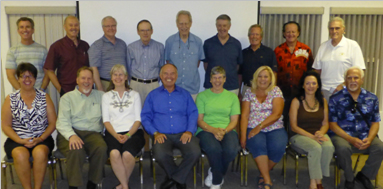 BOB Reunion, Portland, OR, June 2012
Nearly 100 people attended the BOB reunion in Portland, Oregon in June, 2012. It was hosted by BOB members, Gary Brown of Newberg, Oregon and Elten Zerbe of Longview, WA. The event was held at the Portland Adventist Medical Center. Dr. Martell shared the latest news from LLUMC, the exciting news about a the Auslen fundraising Challenge and updates regarding proton therapy.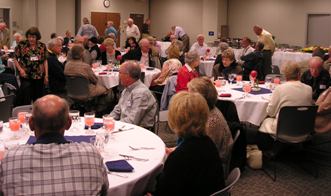 LLUMC Wed. Night Meeting, Check Presentation June 2012
During a Wednesday night meeting in June, 2012 at LLUMC, there were a few surprises. One of the proton "graduating" classes from 2008 had a reunion recently, and they raised $5,000 for proton research. They asked John Lewis (Class of 2010) and Clyde Marsh (Class of 2007) to present the check at the next Wednesday night meeting. At the same meeting, Nancy Gilbert, treasurer of the Tuesday night potluck, presented $1,500 in cash for proton research. Both gifts will be doubled through the Auslen Fundraising Challenge.

LLUMC Wed. Night Meeting, 6000th BOB Member Award, June 2012
At a June, 2012 LLUMC Wednesday Night Meeting, Bob Marckini asked BOB member and former pro surfer, Townsend "Spyder" Wright, to come up to the front of the room for special recognition. He then presented Spyder with an award for becoming the 6,000th member to register for the Brotherhood of the Balloon, an award even rarer, according to Bob, than the Nobel Prize.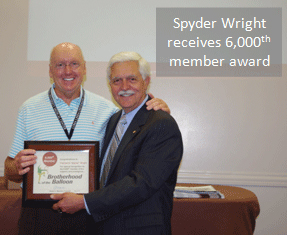 Venturi Charity Golf Tournament : May, 2012 
For 22 consecutive years, golf professional, TV personality and BOB member, Ken Venturi has hosted the Venturi Charity Golf Tournament. Ken began giving back to LLUMC in 1990 after he saw how well a family member was treated there. Later, when he was diagnosed with prostate cancer he benefited first-hand from proton therapy at LLUMC. Ken has raised millions of dollars for LLUMC. Money raised from the tournaments each year goes to the Ken Venturi Endowed Chair for Proton Therapy Research.  May 2012 was another sell-out. BOB members and others from around the country participated in the event that was held at the Club at Morningside in Rancho Mirage. The weather and course conditions were both perfect, as they are every year.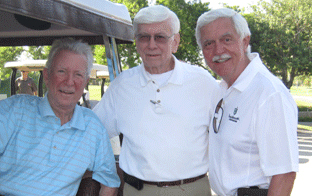 BOB Reunion, Kettering, OH, April 2012 
On April 29th, 2012, Dr. Richard Hart, Loma Linda CEO, and others from Loma Linda hosted a Loma Linda Comes to You meeting in Kettering, Ohio. Following the meeting Dr. Martell and Bob Marckini hosted a BOB reunion. Several members were in attendance and three proton centers were represented by the BOB group.  That evening Chuck and Mary Kubicki entertained 70 BOB members and spouses at their home in Indian Hill. Chuck, an avid golfer, has a par 3 golf hole in his back yard, along with five Tee boxes.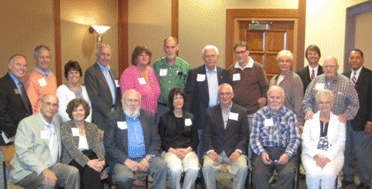 Loma Linda Comes to You October, 2011 
On October 2, 2011, LLUH President, Dr. Richard Hart, traveled to Boston Massachusetts as part of his Loma Linda Comes to You outreach effort. Loma Linda University Alumni, Counselors, and BOB members were invited to these meetings. Dr. Hart reported on the latest developments at the medical center. 
Ken Venturi Golf Tournament, 2002 
Ken Venturi Charity Golf Tournament, May 2002. Ken Venturi has raised millions of dollars for proton therapy research. 
LLUMC Homecoming Celebration, 2002
November 2002 Homecoming celebration and 12th anniversary of the Proton Treatment Center. Wong Kerlee Center gathering. 
LLUMC Homecoming Celebration, 2003
Dr. James Slater talks about latest developments in proton therapy research. 
Mount Burroughs Climb, 2003
Before meeting for a reunion in Seattle, Bob Marckini and his wife, Pauline, David Colwell and Dr. Lynn Martell of LLUMC and photographer and BOB member, Jerry Klein (not pictured), climbed Mount Burroughs in the shadow of Mount Rainier. 
BOB Reunion: Seattle, WA, 2003 
The Seattle BOB reunion was hosted by Dr. J. Lynn Martell on September 7, 2003. 
BOB Reunion: Hingham, MA, 2003
Our Northeast Reunion last year was held at the home of Kathy and Bill McClaskey in Hingham, MA on September 28, 2003. 
BOB Reunion: Australia, 2005
Three Aussies (Ross Howard, Brian King, John Beresford) hold BOB Reunion in the 'Land Down Under' in August 2005
BOB Brunch: Loma Linda, CA, 2003 
BOB brunch at LLUMC Proton Treatment Center Homecoming Celebration, November 16, 2003.