"Since my proton treatment 7 years ago, I've had no side effects and all systems are normal. Thank you, Bob Marckini. Your book saved my life and gave me the knowledge and courage to do what was right for me." — Dave Ellis, BOB Member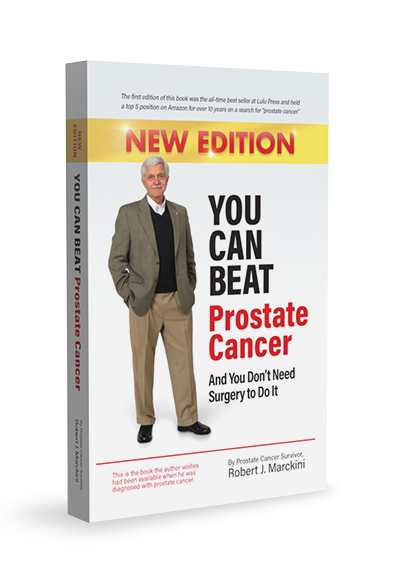 New Edition: You Can Beat Prostate Cancer: And You Don't Need  Surgery to Do It
BOB founder Bob Marckini's first edition sold over 200,000 copies; it was the all-time best seller on Lulu Press; it held a top 5 position on Amazon for more than 10+ years; and it had an average 5-star rating on more than 400 Amazon reviews. 
"You Can Beat Prostate Cancer: And You Don't Need Surgery To Do It" eliminates the confusion about what to do about prostate cancer and how and where to get treated. Speaking from personal experience as a "graduate" of Loma Linda University Cancer Center's proton treatment program in 2000, Bob Marckini makes a strong case for considering proton therapy as a viable option for avoiding radical surgery and other treatment options. He dedicates his book, You Can Beat Prostate Cancer, to the "extraordinary people at Loma Linda University Cancer Center that saved my life and preserved the quality of my life."
---
What's New in the 2nd Edition
Latest prostate cancer diagnostic technology;

"The great PSA testing controversy:" Analysis, compelling evidence, conclusions and recommendations;

Expanded discussion on pros and cons of all prostate cancer treatment options with emphasis on disease-free survival and side effects;

Latest developments in proton therapy technology, clinical research showing the superiority of proton therapy;

Recent research comparing proton to IMRT;

Health insurance challenges and reasons for optimism; 

24 testimonials written by former proton patients representing most  of the U.S. proton centers

Review of multiple, independent, comprehensive patient surveys showing overwhelming patient satisfaction with proton therapy  with patient-reported results on disease-free survival and toxicity;

A review of PARTIQoL and COMPPARE clinical trials;

Impact of diet and lifestyle on prostate cancer prevention  and recurrence;

Major revisions to the chapter on "The Ten Steps to Taking Control  of the Detection and Treatment of Your Prostate Cancer;"
---
Endorsements by Some of the Most Prominent Figures in the Proton World and Beyond
Richard H. Hart, MD, DrPH, President, Loma Linda University Health

Nancy Price Mendenhall, MD, FASTRO, Professor, Dept. of Radiation Oncology, Medical Director, Univ. of Florida Health Proton Therapy Institute

Sameer Keole, MD, Medical Director Proton Therapy, Mayo Clinic, Phoenix, AZ

Steven J. Frank, MD, FACR, Professor and Executive Director, the UT MD Anderson Cancer Center Particle Therapy Institute

Carl J. Rossi, MD, Medical Director, California Protons

Arnd Hallmeyer, MD, PhD, DSc, Prostate Cancer Survivor, Berlin, Germany

J. Ben Wilkinson, MD, FACRO, Radiation Oncologist

Joseph J. Busch Jr., MD Oncological Radiologist and Kathy Busch BS, RT (N) (MR), (CT), CNMT (PET), Busch Center

Les Yonemoto, MD, MBA, CPE, DABR

Carolyn Vachani, RN, MSN, AOCN, OncoLink, Penn Medicine, Abramson Cancer Center, Managing Editor

H. Terry Wepsic, MD, Professor Emeritus of Pathology, University of California, Irvine, CA, Research Professor, Long Beach VA Healthcare System, Long Beach, CA

Bert Vorstman, MD, MS, FAAP, FRACS, FACS, Board Certified Urologist (Retired)

Patrick Greany, PhD retired USDA Research Entomologist and Courtesy Professor, Univ. of Florida

John B. Frick, Managing Director, Chisholm Advisors

Charles A. Smithgall III, Former Chairman and CEO of SEI Aaron's Inc. 

Marcio Fagundes, MD, Medical Director, Radiation Oncology Department, Miami Cancer Institute

Tom Guest, Johnson and Johnson, Vice President of Professional Education, Augmenix/Boston Scientific

Howard Wolinsky, 9 years on active surveillance for low-risk prostate cancer and author of "A Patient's Journey" column for MedPageToday.com

J. Lynn Martell, DMin, Director of Special Services Loma Linda University Cancer Center (Retired)
---
Amazon Reviews of the Second Edition
You shouldn't try to beat prostate cancer without this heroic and miraculous book! 
If you have been diagnosed with prostate issues you will probably be in denial (Me? Cancer? No way!). You may feel lost and overwhelmed. I did. Most likely your doctor will not recommend a specific course of treatment, but will lay out a bewildering set of options. Mine did. Don't go into the decision process blindly and DO NOT opt for surgery without a clear understanding of other courses open to you. You must take control of your own health plan. Here's what to do:
Don't panic. You have many good choices.

Bring your loved ones into the discussion. They will be your support and your strength.

BUY THIS BOOK! Written by a self described "recovering engineer" the author, Robert Marckini, goes through the options, the treatments, the pros and the cons. The writing is direct, straightforward and clear enough for a reader with only basic medical knowledge. However for the detail oriented there is a wealth of information, citations and referrals to other sources in the index and attachments.
If your goal in selecting a treatment plan is to be able to say "I made the best decision I could'" this book is your essential tool.
You shouldn't try to beat prostate cancer without this heroic and miraculous book!
Having prostate cancer can scare the daylights out of anyone, even a physician like me. I will never forget how bad I felt when those shocking words "You have an advanced and aggressive cancer" were spoken by a urologist who had just met me and did not know me enough to really care. I was terrified and devastated and needed help. Most of all I wanted a confident reassurance that I was going to survive and better yet become cancer free. That someone turned out to be Bob Marckini and his heroic book, You Can Beat Prostate Cancer. The first edition was great, the new edition is outstanding, and I will tell you why. First, you can trust everything written in this book. Even before you finish reading it, you will know as I did, a physician for 45 years that its contents are true and reliable. You can literally bet your life on it. As a leading medical university professor, I did just that.
With this book in your hands, you will no longer have to feel helpless or hopeless. Why…because it will be impossible for you to single handedly attempt to find, read, study, and comprehend the vast medical knowledge about prostate cancer. Bob has done it for you. He has distilled the many scientifically intricate and advanced ways to successfully treat prostate cancer into an easy to read and well referenced guidebook. You should not try to beat prostate cancer without this book as your trusted resource and companion. This book is loaded with all the essential and extremely useful information about prostate cancer. It is easy to read and understand.
As a guidebook, its chapters highlight all the import facts about prostate cancer, making them easy to find. It is a quick read. I got through it in one day, not only because I have prostate cancer myself and was desperate for knowledge that could save my life, but I also found the book riveting and could not and would not put it down. With each page I felt more hope returning. And long before I was done, I felt as though my cancer had already been cured, at least in my mind, because I discovered and selected the treatment that was going to be the best for me. And I knew from Bob's book the outstanding results that others had achieved with my exact cancer, including those who achieved stable low PSA's, an indicator of no cancer activity, what every survivor wants to hear.
All I needed was to find the team to make it happen and Bob's book provided me with the location of the facility that was best qualified to treat me. I am just getting started with my treatment and my wife and I have every reason to smile with relief. For now, I am in good hands and about to receive what Bob's book, and my doctors have assured me is the absolute best choice of treatment. My treatment has the best expected outcome for me to enjoy a long life without any detectable evidence of cancer in my body.
Thank you, Bob, for this miracle book. I hope it ends up in the hands of everyone who has prostate cancer and their loved ones. I hope it is read by those who should be or are being screened and happily learn there is no reason to suspect cancer. I hope it is read by those men who do not even know when to begin taking steps for prostate examination and PSA testing. For that is the best way to assure the earliest detection and receive the best and most appropriate treatment to be cancer free. But mostly, I hope this book takes away that dreadful looming fear of having cancer and instills a promising belief that you can be the next one, amongst a brotherhood of many, who have beaten cancer, thanks to Bob and this book.
---
About the Author, Robert J. Marckini
Bob Marckini is former Management Consultant and Senior V.P. for a Fortune 500 company. He holds a B.S. in Chemical Engineering, an MBA, is a Registered Professional Engineer, and a graduate of the MIT sloan School Executive Development Program. Bob is a director on three boards; he and his wife are active in local church and community activities.
Bob is a strong advocate for prostate cancer awareness and early detection. He founded and now manages the Brotherhood of the Balloon, an organization that provides support to prostate cancer patients around the world and raises money for cancer research.
An avid boater and "average" golfer, Bob lives with his wife, Pauline in Mattapoisett, Massachusetts. They have two daughters and one granddaughter.