We are 10,000 prostate cancer survivors, all treated with proton therapy.
You can beat prostate cancer. The Brotherhood of the Balloon can help.





Scheduled Downtime Alert:
Account creation and account updates will be unavailable from June 1 to June 8, 2023.
We apologize for the inconvenience.
---
The Advantages of Proton Therapy
Unlike traditional radiotherapy treatment, proton radiation is directed to the tumor with pinpoint accuracy resulting in less damage to surrounding healthy organs and tissue.
With proton, doctors have the ability to deliver a higher dose of radiation to the tumor – and the higher the radiation dose, the better the chance of destroying all the cancer.
Treatment is non-invasive and painless.
Treatment is provided in an outpatient setting – patients can schedule treatment early in the morning and have the rest of the day to work or play.
There is usually no impact on a patient's energy level and no recovery time.
Significantly lower chances of secondary cancers later in life.
Overall, there are fewer, if any, side effects compared to other treatment options.
---
---
Second Edition Available: You Can Beat Prostate Cancer
First Edition:
OVER 200,000 copies sold
ALL-TIME BEST SELLER on Lulu Press
TOP 5 POSITION on Amazon for 10+ Years
5 STAR RATING on over 400 Amazon Reviews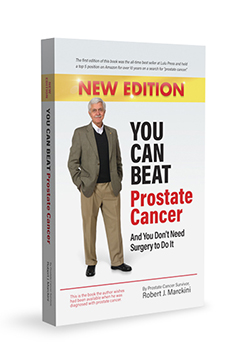 Whats New:
Latest prostate cancer diagnostic technology;
"The great PSA testing controversy:" Analysis, compelling evidence, conclusions and recommendations;
Expanded discussion on pros and cons of all prostate cancer treatment options with emphasis on disease-free survival and side effects;
Latest developments in proton therapy technology, clinical research showing the superiority of proton therapy;
Recent research comparing proton to IMRT;
Health insurance challenges and reasons for optimism;
24 testimonials written by former proton patients representing most of the U.S. proton centers
Review of multiple, independent, comprehensive patient surveys showing overwhelming patient satisfaction with proton therapy with patient-reported results on disease-free survival and toxicity;
A review of PARTIQoL and COMPPARE clinical trials;
Impact of diet and lifestyle on prostate cancer prevention and recurrence;
Major revisions to the chapter on "The Ten Steps to Taking Control of the Detection and Treatment of Your Prostate Cancer;"
Endorsements by some of the most prominent figures in the proton world and beyond.
Questions? Contact us!
---
Bob Marckini spoke about his experience with proton therapy at the 2013 NAPT conference.
There is a lot of misinformation about proton therapy in the media and even many doctors are uninformed or misinformed about proton therapy. Learn the truth.
Radio and talk show host Bill Cunningham interviewed Bob Marckini live on his radio show in 2013. 
---
Helpful Links
Read breaking news about proton therapy. Leave feedback on stories that interest you. Stay up-to-date on prostate cancer and proton therapy news.
Why choose proton therapy? Watch five real patients; hear five real stories.  
Loma Linda University Cancer Center analyzed results of proton therapy for localized prostate cancer, with emphasis on biochemical freedom from relapse.
---
What is the treatment process really like? How does proton compare to other treatment options? What is the cure rate? What are the side effects?
Learn the physics. Learn about the equipment used in proton therapy delivery. Search for clinical trials. Learn about proton therapy for pediatric cancers.
The NAPT is registered as an independent, non-profit, public benefit corporation providing education and awareness for the public, professional and governmental communities. Founded in 1990, it promotes the therapeutic benefits of proton therapy for cancer treatment in the U.S. and abroad.
---
Proton Therapy Today is an editorial website which gathers serious, trustworthy stories and information about the world of proton therapy.
This clinical trial will compare the quality of life, side effects, and cure rates for prostate cancer patients treated with proton therapy or photon therapy.
Jim Tuggey was treated with proton therapy for his prostate cancer in 1999. He started this blog to help others learn about the treatment from a patient's perspective. After his passing (unrelated to prostate cancer), his nephew handed the blog over to us. We're honored to keep it going.