Click on the links below to view television and radio interviews with founder of the BOB, Bob Marckini. Our organization, launched in 2000, consists of more than 8,000 men from all over the world. The BOB promotes prostate cancer awareness and prevention, advocates proton beam therapy for prostate cancer, and raises millions of dollars for proton therapy research. This research benefits thousands of men, women and children who are afflicted with various cancers or other serious medical conditions.
Television
---
Radio
---
Magazine/Newspaper
---
Book Reviews (You Can Beat Prostate Cancer: And You Don't Need Surgery To Do It)
"...the one book you must buy" - John Raynolds, Fmr. CEO, Outward Bound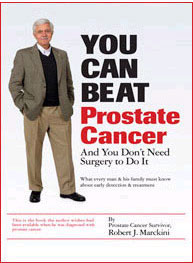 As seen on NBC's Today Show, NBC Nightly News, and Fox 25 News:
You Can Beat Prostate Cancer
And You Don't Need Surgery To Do It
Following years of research, communications with dozens of physicians and thousands of patients, Bob Marckini, founder of the Brotherhood of the Balloon, has written a book explaining in layman's terms what every man needs to know about taking control of his own prostate cancer diagnosis and difficult treatment decision. All major treatment options are examined and the pros and cons of each are summarized. This is the book Marckini wishes he had when he was diagnosed more than seven years ago. It is a must-read for anyone dealing with prostate cancer.
"I find Bob Marckini's book to be the best source of information available to men who are at risk of prostate cancer, or have been diagnosed with this disease."
- Ken Venturi, Golf Professional and TV Personality
Click here to preview the book or click here to order your copy now.