What are former proton therapy patients doing 1 year, 5 years, 10 years, and even 20+ years after treatment? What are proton patients doing during their proton treatment? Read our "Life After (and During) Proton" stories below and you'll find out.
Registered for Sprint Triathlon During Proton Treatment
Hugh Armitage was treated with proton therapy for his prostate cancer in 2009. "When I was being treated, I never thought about how certain aspects of my experiences at Loma Linda University Cancer Center would profoundly impact and influence my 'post-proton' life," Hugh said. In treatment, Hugh remembers LLUCC's Director of Special Services  telling new patients that he expected to see all of them at LLUCC's Drayson Fitness Center regularly and that exercise and adopting a proper diet was part of LLUCC's overall treatment philosophy to "Make Man Whole."
Hugh took that advice seriously. He began to swim on a regular basis at the Drayson pool; he rode his bike daily around town; and at the urging of his daughter, during her visit early on in his treatment, Hugh began running. "At that time, I had not run in probably 36 years," Hugh said. "The first mile with her was brutal," but, Hugh persevered. And soon after, he did something he never would have considered doing in his younger days—he signed up for the "TINMAN" sprint triathlon in neighboring town, San Bernardino, during his proton treatment.
Today, eight years later, Hugh's feeling great and his health is good. He works full-time; he frequently takes part in local road races; he bikes, and he swims. Hugh recently completed a triathlon in Florida followed by his 200th competitive event at a half marathon in Atlanta. 
Below is a collage of photos of Hugh from the many marathons, half marathons, and triathlons that he's competed in.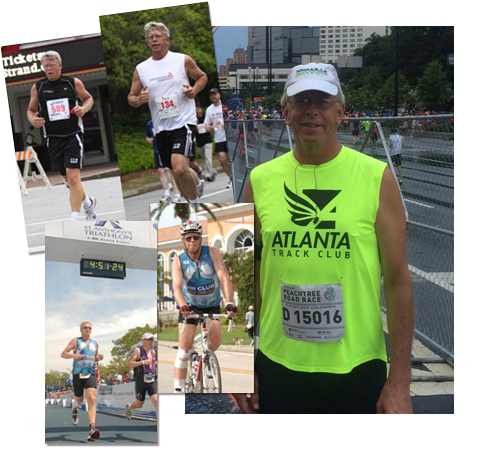 UPDATE: May, 2017: Hugh just completed his 25th triathlon in Mexico Beach, Florida. Congratulations, Hugh. It must be the protons!
---
Completed First Triathlon After Proton Treatment
Former proton patient and BOB member, Markus Mittermayr, certainly didn't let prostate cancer slow him down; in fact, we think Markus "sped up" after receiving proton therapy in 2010. Two years after his treatment ended, he completed his first Ironman Triathlon in New York City. His overall time was twelve hours, forty-three minutes, forty-six seconds. "Not bad for a 2.4 mile swim, 112 mile bike ride, and then a 26.2 mile run," Markus said. We agree! Way to go, Markus!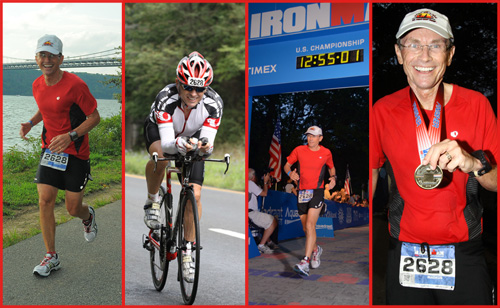 Update 2014: Markus ran the New York City marathon in November 2014. Currently, he runs six days a week for 48 miles. In the next few weeks, it will increase to 56 miles. You are an inspiration, Markus!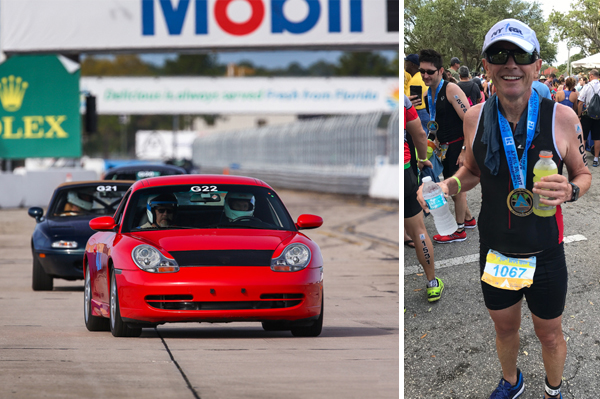 Update 2017: Markus has completed the Chattanooga Ironman Triathlon, St. Anthony's Olympic Triathlon (2x), the Boston Marathon, the Panasonic NYC Olympic Triathlon, and he's signed up for the Vienna, Austria marathon in 2018. He's also a race car driver. Keep going, Markus!
---
Rode Bicycle from Buffalo to Albany a Year After Treatment (and He's Still Going, Seven Years Later)
Paul Gustafson, Ph.D. completed a bicycle trip from Buffalo to Albany along the Erie Canal a year after his proton treatment in 2007. Since then, his wife and he have been inspired to take part in other tours, including a cross-country trip (San Diego to St. Augustine) planned for 2017. Paul has also completed a couple of segments of the Appalachian Trail where one night, his hammock was visited by a black bear which is "great practice for improving your ability to lie still and hold your urine."
Paul says he is as active now as he was before his treatment, "Anyone contemplating proton treatment should plan on a 'pedal-to-the-medal' mentality if that's your speed before treatment," he says. Paul has also recently taken up backpacking.
The photo below shows Paul and his wife, Brenda, on the final day (a very rainy one) of their bicycle trip from Buffalo to Albany.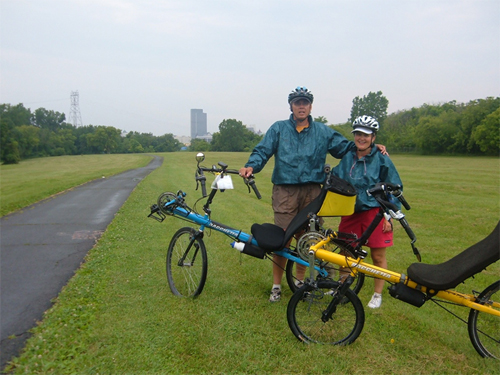 ---
Intensive Workout Every Day During Proton Treatment
Mark Podob qualified for the hypofractionated proton therapy clincial trial (a shorter course of treatment) which he underwent in 2012.
Mark said, "My decision on what treatment to pursue had to do with minimizing risk, since I was also told by my urologist that any treatment would work for my cancer stage. So, why not pick the treatment that was the least invasive with a 25+ year track record of success, and would result in no side effects?"
During Mark's proton treatment, he went to the gym every morning for two hours and did a fairly intensive aerobic workout. He maintained that schedule throughout his treatment and to this day, he continues to have no side effects from treatment.
In the photo below, Mark is on the left in the red shirt. He participated in the American Cancer Society bicycle ride from Philadelphia to Atlantic City (65 miles round trip) in 2011 and again in 2012.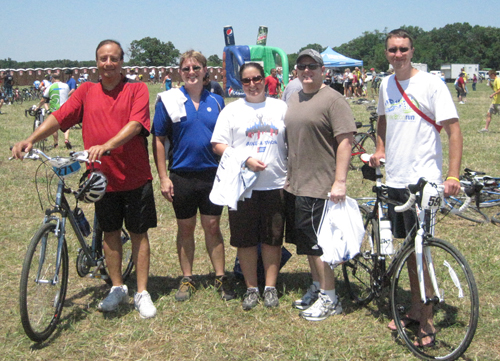 ---
Fourteen Years After Proton Therapy - "I have not spent ONE DOLLAR on medicines or follow-up procedures."
Wayne Swartz completed his proton treatment in July 2002 at the age of 58. He told us: "I have not spent one dollar on medicines or follow-up procedures in my 14 years post-proton treatment. I have friends and colleagues that have had other modes of prostate cancer treatment and they all had follow-up treatments with much expense and physical problems." Wayne's PSA is low and steady. Today, at age 72, he bales and physically handles about 13,000 bales of hay a year as well as many horses in a three-county area.
Below is a photo of Wayne on one of his collector tractors, a 1977 winning the barrel-roll competition at an antique tractor show.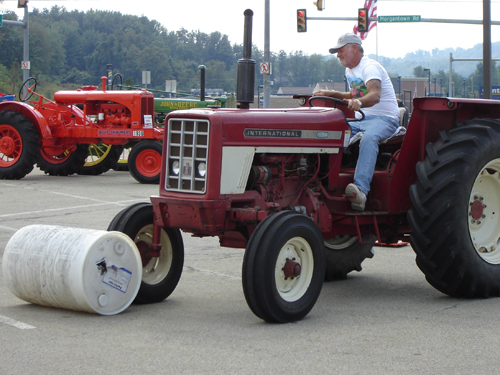 ---
Twenty-three Years After Proton Treatment, Harold (age 93!), is Doing Great!
Harold Rabin, age 93, just celebrated 23 YEARS since he was treated for prostate cancer with proton therapy at Loma Linda University Medical Center. Harold tells us, "I still play golf, go to the gym regularly, and enjoy life with my wonderful lady friend, Jean. And, I am looking forward to many more years of active, cancer-free life."
Below is a recent photo of Harold and Jean enjoying dinner out.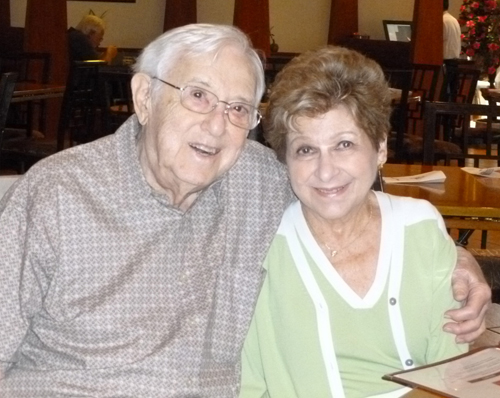 ---
After Proton Treatment, Grandfather Skydives to Celebrate Granddaughter's Birthday
Five months after his proton treatment for prostate cancer, Larry Talmadge, 79, charter member of The Parachute Club of America (PCA) and an original Seattle Skydiver, came out of retirement at the request of his granddaughter for one more jump to celebrate her birthday. "We made a pack when I was a little girl that we would jump together on my 18th birthday and I held him to it," said Tayleigh Talmadge.   
Family and friends met at Harvey field in Snohomish, Washington where Larry's career began in 1957 to celebrate the event. "This was my 109th jump and a lot has changed for the sport," said Larry. "Using square chutes and an altimeter was a new experience as well as being in a plane that could reach 13k feet in less than 20 minutes."  
Larry's pre-treatment PSA was 13. His current PSA is 1.2. Larry feels wonderful and has had no side effects of any kind. "At the age of 79, I feel blessed to have been able to receive proton treatment for my prostate cancer at Loma Linda. I am able to carry on with my life knowing that proton therapy is the reason I am able to do this with no physical constraints. I golf everyday (weather permitting) I can also attest to the fact that I can function as a whole man, including being mentally, physically and sexually normal."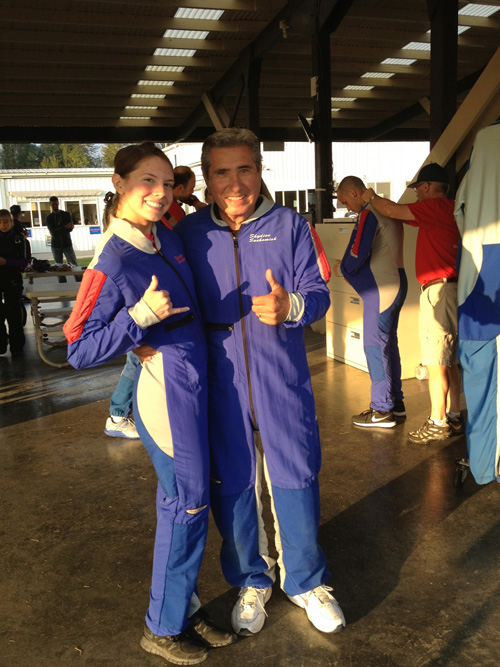 Click here to watch a video of Larry's skydiving adventure!
---
Climbed Mountains During Proton Treatment – How's He Doing 14 Years Later?
Photographer and scientist, Jerry Klein, was treated with protons at Loma Linda University Medical Center in 2000 (One of the BOB's very first members; he was treated alongside BOB founder, Bob Marckini!). During his treatment, Jerry spent his free time climbing mountains, including Mount San Gorgonio, the highest peak in Southern California. "I climbed in those mountains at least three times per week during my treatment," Jerry says.
How's Jerry doing 14 years post-treatment? He's flying in helicopters, and taking aerial photos along and near the eastern shore of Lake Washington, among other places. Jerry works with his wife, Cindy, in their home studio in Issaquah, WA. Together, they produce beautiful artwork including finished canvases, fine-art prints, greeting cards and more. They fully enjoy what they do.
In the photo below, Jerry and Cindy are photographed (July 1, 2014) hiking to a lake in the Cascades Mountain Range in Washington state.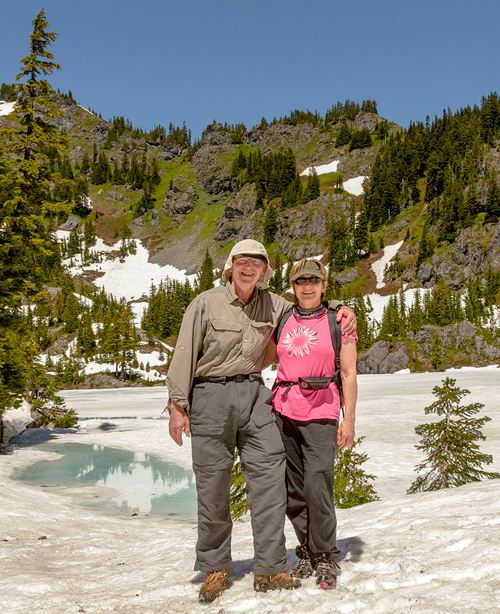 ---
Drove 1,750 Miles Home on Motorcycle After Proton Treatment
Carl Jones asked us, "How many forms of prostate cancer treatment could someone go through and then take a motorcycle ride like that immediately after treatment?" Much of the ride home to Oregon, Carl drove through Arizona, Utah and Nevada on bumpy, dirt roads. "I'm totally sold on proton therapy and Loma Linda University Medical Center," Carl says.
How is Carl doing two years later? He's riding his motorcycle on long distance trips most of the time. In fact, he just bought a new bike (a KTM 990 Adventure) and accepted a position as the event manager for the Malcolm Smith (a "legend" in motorcycle racing) "Seven Days of Baja." During this challenge, Carl completed a charity off-road motorcycle trip from the border of California to Cabo San Lucas. The event raised $700,000 to support an orphanage in Baja. Carl is also an amateur actor! He plays "Mr. Brownlow" in the musical, "Oliver."
The photo on the left, below, is Carl, taking a break, as he rides his motorcycle 1,750 miles home after proton treatment. The photo on the right shows Carl as "Mr. Brownlow" in the musical, "Oliver."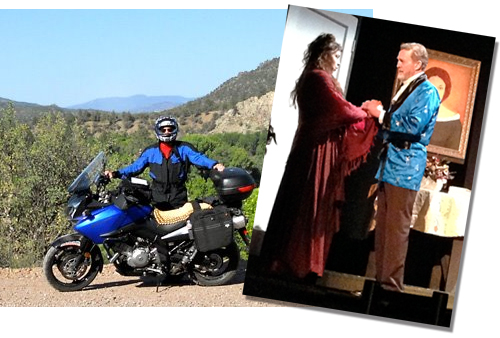 ---
Rode 15 Miles Up a Mountain After Proton Treatment
Alan Holt was treated with proton therapy for his prostate cancer at Loma Linda Health in early 2013. Alan, his wife, Shelly, and 17 members (!) of his family, rode the 15-mile Hiawatha Mountain Bike Trail in Northern Idaho this summer after completing his 28-month proton treatment follow-up exam.
"I'm very happy," Alan told us. "My PSA is dropping steadily and we are so grateful for proton therapy." When Alan was diagnosed back in 2012, he told us he was "devastated." He spent the next nine months investigating treatment options. During that time he came across Bob Marckini's book, "You Can Beat Prostate Cancer: And You Don't Need Surgery To Do It" and "a light went on." Alan told us, "When I was done reading, I knew the course of action I would take." The rest, as they say, is history.
Today Alan is very active – working, biking, and enjoying life.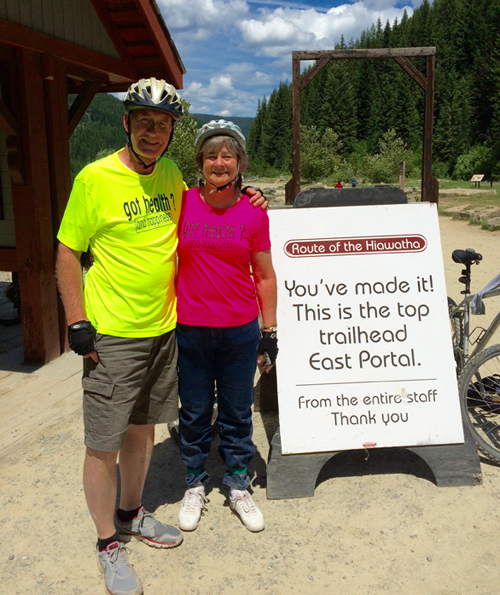 ---
Rides Bicycle Across Country Following Proton Treatment
Mike Sayles has been an avid bicycle rider for many years He was treated with proton therapy for prostate cancer in 2011 and it didn't stop him. "In 2006, my son, Evan, and I started what has become an annual bicycle tour across the country," Mike told us. "We do it in segments - every summer - on a tandem bike." This past summer (2014), the two crossed Illinois and rode into Indiana. Their goal for the next three summers is to ride from Naples, Florida to Newport, Rhode Island.
Mike told us, "Loma Linda and Bob Marckini's book changed my life forever." When we asked him how he's feeling physically, Mike said, "I feel good. Gosh, my life has been so 'normal,' it's difficult to think back to my treatment in 2011 and remember that I had prostate cancer at all!" He told us that the beauty of proton therapy is that he's able to continue his life in a normal way, which is a very special gift - a gift that he can share with his son and the rest of his family.
The photos below can be found on Mike and Evan's blog, "Me, My Dad, and America." The first photo was taken by Evan (of the back of Mike's head) while underway in South Dakota. The second photo shows Mike and Evan taking a rest at the Enning Store and Post Office, also in South Dakota.
---
Fisherman, Hiker, Hunter, Motorcyclist, and Sports Car Enthusiast  Helps Hundreds Find Their Way to Proton Therapy
Since Scott Wilcox completed his proton treatment at Loma Linda University Cancer Center (LLUCC) in 2012, he has counseled hundreds of men following their prostate cancer diagnosis. Not only has Scott shared his personal experiences of proton therapy through phone calls and emails, he has traveled hundreds of miles from his home in Morro Bay, California to Loma Linda numerous times to meet face to face with prospective proton patients. 
"Proton therapy and LLUCC saved my life. They gave me a passion to give back as a result," said Scott. "I will continue to do what I do (help others find their way to proton therapy) for as long as I can."
When Scott is not on the phone or writing emails to prospective proton patients, he and his wife, Anne, are busy halibut fishing, hiking in the nearby mountains, and hunting. Scott also enjoys riding his Harley Davidson and driving his Ferrari.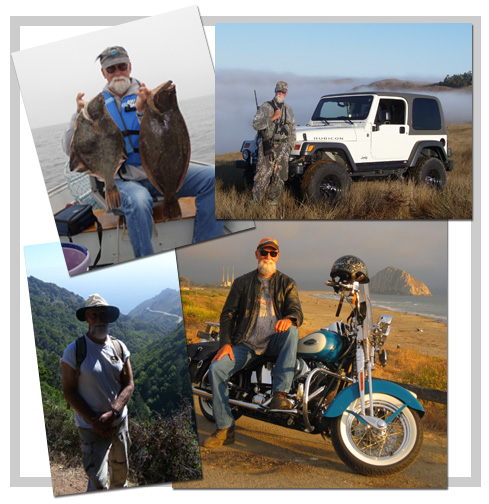 ---
Built Airplane After Proton Treatment
When Bob Thomas was diagnosed with prostate cancer in 2004, his doctors told him, "the end is near," and pushed surgery without hesitation. "I was concerned," Bob said. "I was 52 years old with a Gleason of 7 and a PSA of 12." And, he was not sold on surgery. Bob sought second and third opinions, did his own research, and later headed to Loma Linda for proton therapy. Now 11 years after proton treatment, Bob's PSA is low and stable.
Bob described his experience at LLUCC: "My doctors and nurses were not just concerned about my cancer; they paid close attention to my overall health. In fact, I still follow the nutritional advice they gave me." He and his wife Candy still believe proton treatment was Bob's best treatment option; they describe his treatment as "easy;" and say their time at Loma Linda was "one of our fondest memories."
Today, Bob enjoys working, recreational flying in an airplane that he built (!) after treatment, walking his dogs, and many other activities.
In the photo below, Bob is about to take some lucky children up for a ride!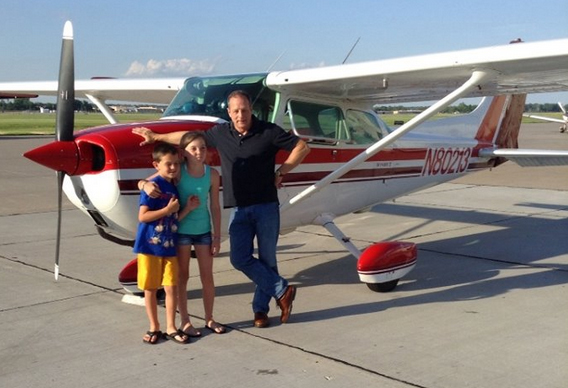 ---
Pilot, Fisherman, Sailor and Hunter: Proton Therapy Didn't Hinder Toby's Active Life During or After Treatment
Toby Frey, a retired pilot, was diagnosed with prostate cancer in November, 2012 after a rapidly rising PSA (4.5―6.9 in 14 months). His urologist, a surgeon, wanted to operate. Toby agreed to the operation which was scheduled for the next month. Meanwhile, he continued to research alternative treatment options. During that process, Toby got "cold feet" and canceled the operation, rescheduling it for the following month so that he could continue his research.
"I sent an email to a couple of friends, looking to find someone who may have information on alternative treatment options," Toby told us. "Almost as soon as I hit the 'send' button, I got a phone call from a friend in Florida who knew two guys (both are BOB members) who had been treated at Loma Linda University Cancer Center with proton therapy. He gave me their phone numbers, and well … the rest is history."
Toby began proton treatment in March, 2013. During treatment, he led an active life—something he's always been used to. "I still fly around 100 hours a year doing flight survey work. This involves flying as low as 100 feet, counting migrating shore birds to flying at 6 to 8,000 feet counting resident geese, migrating waterfowl, muted swans or looking for gypsy moth damage to hardwood trees," Toby told us. He also flies off the coast of Maryland and Delaware and counts fishing boats using the artificial reefs in Delaware Bay and the Atlantic Ocean. Toby has clocked more than 12,000 hours of flying. He's also an avid fisherman, sailor and hunter. "My favorite fishing is salt water fly fishing," Toby said. Proton therapy didn't get in the way of that. While in treatment, Toby made friends with another patient and the two fished about two times each week.
Toby finished his treatment in early May. By the end of the month, he had his FAA physical approved and was flying commercially again, continuing his survey work for Maryland, Delaware and New Jersey State Departments of Natural Resources, Forestry, Fisheries and Universities. 
"I feel like I never had treatment for cancer. My one year PSA was .233."
Toby is happy to report that he is feeling well and enjoying life with his wife of 40 years.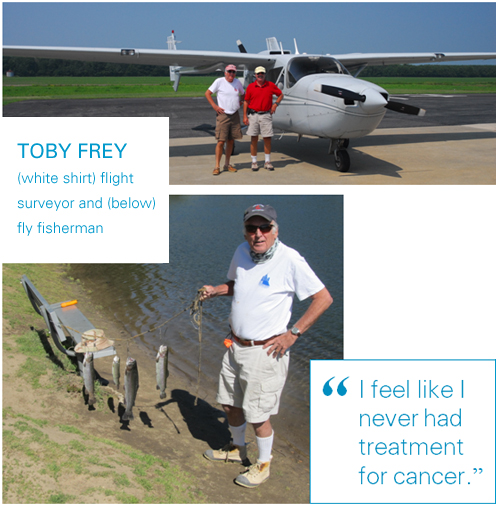 ---
Three Years After Proton Treatment, "Life is Full" for Photographer, Bud Ralston
Ocean sports and wildlife photographer, Bud Ralston, completed his proton treatment in March of 2011. "My PSA is 0.25," he tells us. "Thanks to protons, I just completed two more photo trips - one by bush pilot into Lake Clark National Park, Alaska to photograph brown bears and the other to Banff National Park and Lake Louise in Alberta, Canada, to photograph mountain landscapes."
In addition to his photographic adventures around the world, Bud golfs 2 to 3 times each week. "Life is full," Bud says. "My wife and I are very grateful and give daily thanks for proton therapy at Loma Linda University Medical Center and for my great quality of life, years later."
Here is a photo of Bud on one of his recent photo trips. You can view all of Bud's stunning photos on his website.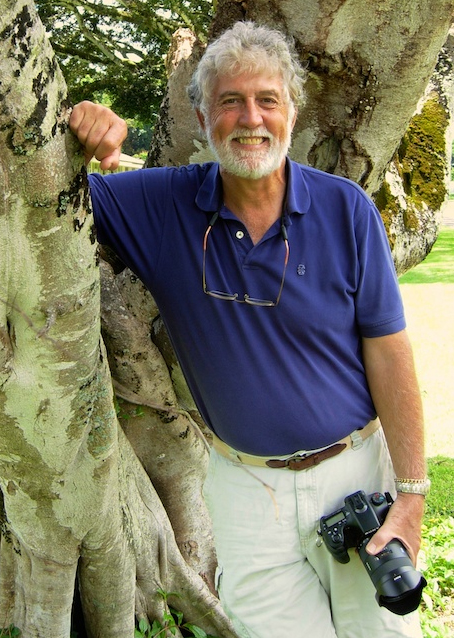 ---
Seven Years After Proton Treatment, Tom is Still Living a "Rich Life" with His Loving Family
Tom Halsted says, "The best thing about my choice to have proton therapy for my prostate cancer is that, seven years later, my life is the same as it was before treatment." Before his proton treatment at Loma Linda University Medical Center in 2007, Tom enjoyed a "rich life," living close to the sea with his loving wife, two brilliant children, and four delightful granddaughters. His time was devoted to sailing, walking, working on community projects, and writing (a periodic blog, newspaper articles, and three never-quite-finished books). 
Seven years after his proton treatment, Tom is still doing all those things, and he's also doing something else – working to spread the word about protons and helping newly-diagnosed prostate cancer patients with the most important decision they may ever face. Some of the men he's spoken with have followed his advice – they had proton therapy. A couple of others had conventional radiation therapy and experienced some side-effects. Two decided they had to "get it out " and opted for surgery. Both surgery patients experienced serious complications after treatment.
Tom says, "The men who underwent proton therapy are just like me – cancer-free, with few, if any, side-effects. And they, like me, sense that they need to spread the word about this extraordinary life-restoring procedure, for which I (and my loving wife, children, and granddaughters) will be forever grateful."
Here is a photo of Tom, contemplating his next writing project ...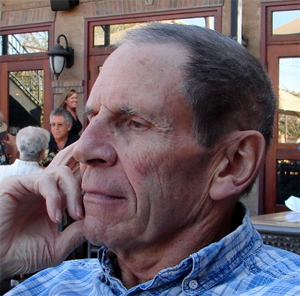 ---
Eighty Years Old; 13 Years Post-Proton Treatment; Rides Bicycle Up and Down Mountains
Jacques "Frenchy" Houot was treated with proton therapy for his prostate cancer back in 2003. At 80 years old, he still races his bicycle up and down mountains. Frenchy belongs to the Aspen Cycling Club. This year they had to create a new category just for him: "The Men's Grand Master 80!" Frenchy recently told us, "This winter I took part in 13 ski races including the National Masters." ... It must be the protons.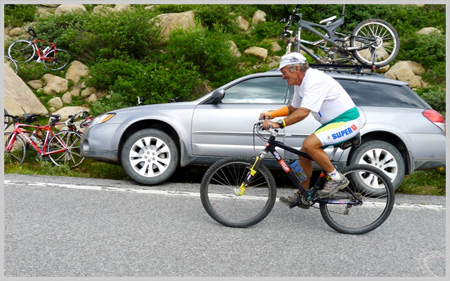 ---
Nine Years After Proton Therapy, Has More Energy (at 85!) than Most Children
Former proton patient and BOB member, Chuck Sampson, is enjoying every minute of life after his proton treatment. Chuck has also been a huge support to our organization. Every time he offers a testimonial or a new photo or quote, we find ourselves asking him for more and more. His response is always, "My goal is your goal." Chuck also says, "Anything I can do to help in your effort, I'm willing to do. If my story will help others to make the right choice—proton therapy—I'm happy to be involved." Chuck also hands out Bob's book, "You Can Beat Prostate Cancer" to just about anyone seeking answers about prostate cancer treatment.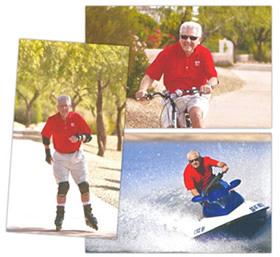 ---
Ran Marathon During Proton Treatment
Here is a photo of Gary Evans, age 64. He ran the Panhandle Marathon in Lubbock, Texas after completing 31 of his 45 proton treatments at Loma Linda University Medical Center. This clearly shows that anything that you may have done before proton treatment, you can do during proton treatment!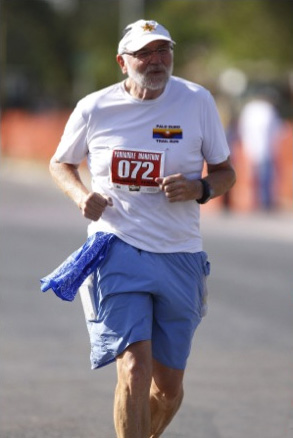 ---
Surfed the Waves Three Times Per Week During Proton Treatment
Surfing legend, Townsend "Spyder" Wright, was treated with proton therapy for his prostate cancer in the Spring of 2012. He told us that during his 46 treatments, he had the energy and desire to drive to the coast at least three times a week, after his morning treatments, to "ride some great waves" at San Onofre. "It was like being on a surfing vacation," Spyder said of his proton treatment.
Spyder also told us that when he ended his proton treatment, he went straight from Loma Linda University Medical Center in California to his home in Hawaii to surf "wonderful waves" for about two weeks straight. Spyder said, "Because of the fantastic treatment I received, which I feel has saved my life, I have a new goal. That goal is to inform at least one person each day about keeping a close check on his PSA and to tell him about proton therapy. I even do this when I'm out riding waves!"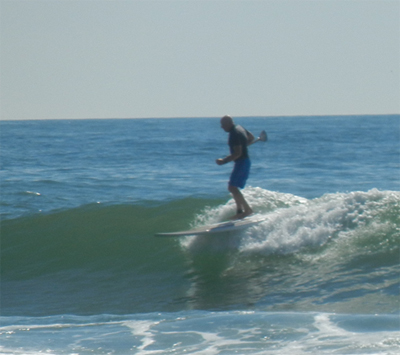 ---
"Extreme" White Water Rafting 8 Years Post-Proton Treatment
Graham Parker, isn't spending his mid-sixties on the sofa watching television. Here he is (in the glasses) white water rafting on the Tully River near Cairns. He even paid extra to take part in the "extreme" version. 
Graham told us, "I was the only one in the group over the age of 30. I had no trouble because I am problem free and living life to the fullest since my proton treatment at LLUMC in 2004."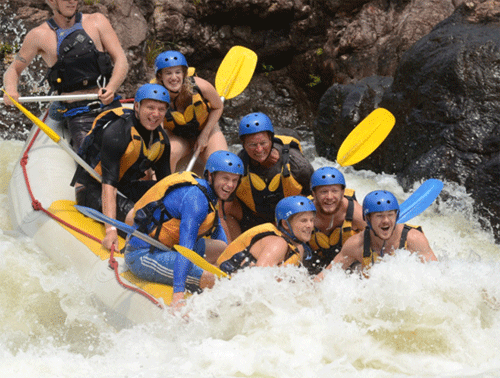 ---
Proton Patient Hangs From Bridge, 500 Feet Over Stream
While being treated with proton therapy for his prostate cancer back in 2005, David Baumchen, learned how to geocache (an outdoor activity in which the participants use a Global Positioning System (GPS) receiver or other navigational techniques to hide and seek containers called "geocaches" or "caches," anywhere in the world). It has been his favorite hobby ever since. In fact, since his proton treatment, David has traveled to 26 countries to find geocaches and is considered the "#1 geocacher" in Washington State.
David is also an active volunteer for The National Wildlife Federation, Marine Mammal Stranding Network, Washington State University Island County Beach Watchers, Camano Action for a Rural Environment, The Pilchuck Wildlife Rehabilitation Center, Friends of Camano Island Parks, Shore Stewards, and Camano Island Backyard Wildlife Habitat Project. And if he wasn't busy enough, his other hobbies include volleyball, kayaking, hiking, cross-country skiing and collecting Geocoins. Sounds like proton didn't slow David down at all.
The photo below shows David, during his proton treatment, "going for the most difficult of caches—rated a 5* 5* difficulty terrain." He is "roped out" under an old abandoned, steel railroad bridge in the mountains over a stream 500 feet below.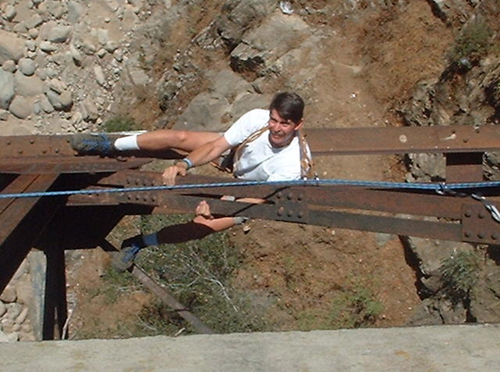 ---
Forty-three-year-old Triathlete Aims to Compete in Ironman World Championships
Todd Varney was treated with proton therapy for his prostate cancer in September, 2012 and he's doing great. In fact, over the past few years, Todd lost nearly 70 pounds, became a triathlete and has learned that "anything is possible" through hard work and determination.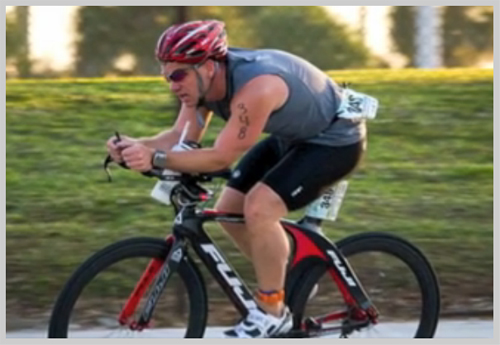 During the summer of 2015, Todd celebrated his three year anniversary of his prostate cancer diagnosis by taking part in a half ironman competition in Boulder, Colorado. He finished in 6 hours and 26 minutes.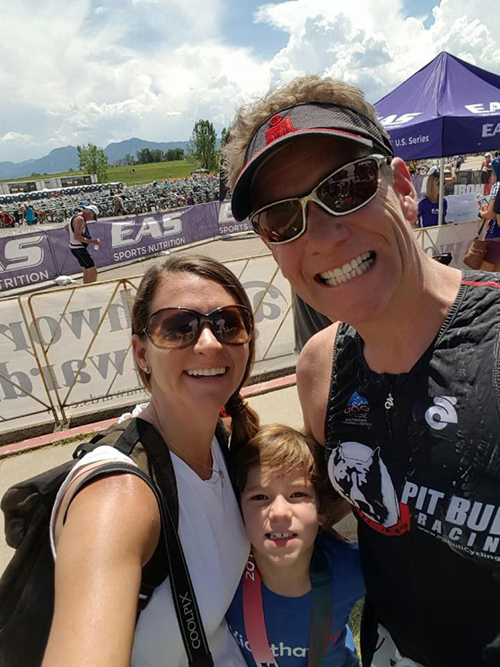 ---
World Traveler Has No Problem Staying in Airplane Seat for 5-Hour Stretches
Steffen Saifer of Portland, Oregon was treated with proton therapy five years ago. He is a child development specialist and independent consultant working for several foundations and the World Bank providing assistance to programs for young children and families in low-income countries. He currently works in seven countries in Western and Southern Africa. He also works with universities in Russia and Bangladesh to establish graduate programs in child development. He told us, "Thanks to proton therapy (and a little Flomax), I can stay in my seat for five hour stretches on the 15 hour flight to Johannesburg!"
Steffen's last PSA was 0.58 and he's feeling good.
Below, you can see Steffen with his many friends on a recent trip to Malawi.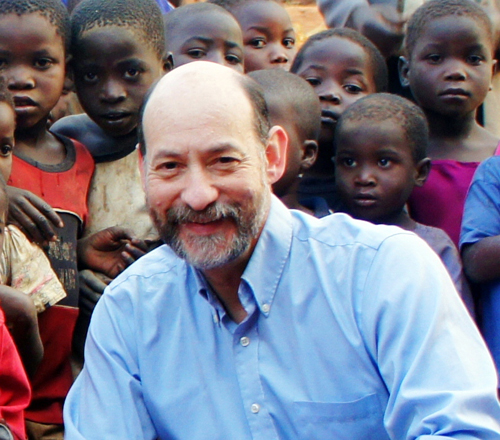 ---
Eighty-one-year-old Proton Patient Back Playing Team Basketball One Month After Treatment
Bob Messersmith, 81, of San Juan Capistrano, California, was treated with proton therapy for his prostate cancer at Loma Linda University Medical Center. He wrote to us one month after treatment to tell us that he's back on the court, playing senior basketball. He recently won "The Gold" as California State Champion. "Encouragement from the 'Balloon Boys' made this all possible," Bob says. Bob also plans to start paragliding in the next few months. He says, "I can do these things because I'm feeling stronger and stronger after proton treatment."
Below you can see Bob (#6 - second from right) and a few members from his basketball team.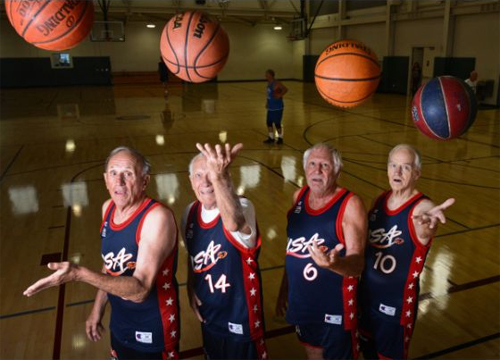 ---
Two Years Post-Proton Treatment and Exploring the Rainforests of Borneo
Ingo Jeve of Windsor, California was treated with proton therapy for his prostate cancer at Loma Linda University Medical Center in 2011. How is he spending his time now? He's exploring the rainforests of Borneo; befriending orangutans; and making plans to visit Phuket, Thailand for some more adventures. Ingo says, "Thanks to proton treatment, I'm doing very well, considering I was a Gleason 9 … Proton therapy has given me a new lease on life."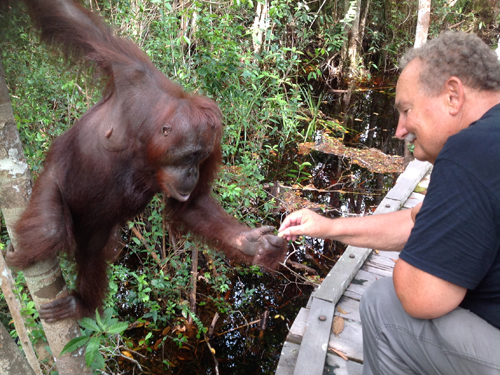 ---
Car Enthusiast with Gleason 9 Prostate Cancer Treated 16 Years Ago
Paul Siano probably had little choice about his favorite hobby. He grew up in Michigan, the car capital of the world, during the the "golden age" of the automobile. He spent more than a few high school study halls trying to draw the perfect car. During his Navy days he purchased a new VW in Gibraltar and brought it back on his aircraft carrier so that later he could install a supercharger. His next car was a new turbocharged Corvair followed by another turbocharged Corvair which he still owns today.  
After receiving word that he had aggressive prostate cancer (Gleason 9) in 2004, Paul wasn't sure how long he'd be around. Sixteen years after treatment, he's feeling fine; his PSA is "so low it didn't even get discussed at my yearly appointment recently;" and he still "plays with cars." Two of Paul's cars were recently part of the Black Diamond Invitational Car Show in his home state of Florida.
"It seems the older I get the happier I get," Paul said.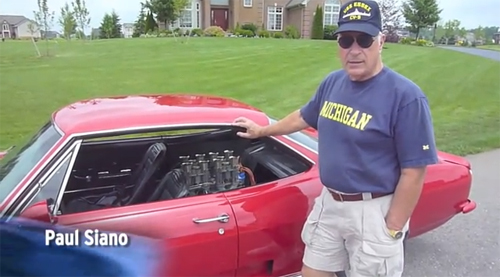 Watch a video about Paul's V-8 Corvair Crown Conversion.
Learn about Paul's new gig—he's co-chairman of the Black Diamond Invitational Car Show.
---
Protons Didn't Slow Bill Down—Literally
Former proton patient and BOB Member, Bill Stevens, age 76, ran the San Antonio marathon after completing his proton treatment two years prior.
Bill has since run five additional marathons, most recently, the Mississippi Blues marathon in January. Bill's times are between 4:30 and 4:48, so it certainly proves that proton treatment for prostate cancer doesn't slow a guy down.
The photo below shows Bill after completing a half marathon in Orange Beach, Alabama. His time was 2 hours, 9 minutes—the best time of the 60 and over age group! "I just hope other senior citizens realize it is never too late to hit the road!" Bill says.
---
Thirty-five Pounds Down and Tattooed
When BOB Member, Thomas Brückner, from Berlin, Germany, arrived at LLUMC in August of 2008, he promised his wife he would lose eight or nine pounds by the time she picked him up in November. "I decided to book a personal trainer at the Drayson Center," Thomas said. "I was quite fat when I started." He began working out three times a week and before he knew it, found himself increasing to five times a week. "I never used a treadmill before, but by the end of my treatment I was able to run for 30 minutes and I had lost nearly 12 pounds."
When Thomas arrived back home in Berlin, he continued running with a goal to complete a half marathon. By the end of 2009, he ran his first "tournament"—a 10K—and finished in 52 minutes. The following March he ran a half marathon in New York, New York, finishing in under two hours. Upon completing the race, he told his wife, Steffi, "I will never run a full marathon—it's just too hard." But by the end of the same evening, Thomas had booked his spot in the Berlin marathon for the following September.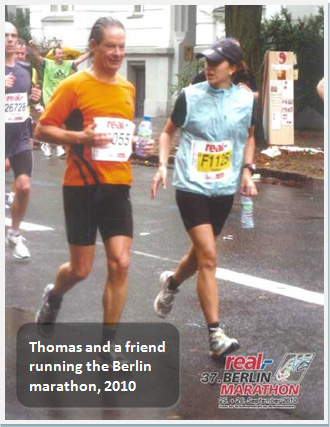 Shortly after his proton treatment, Thomas got a tattoo on his arm. We think he's happy with his treatment choice and facility.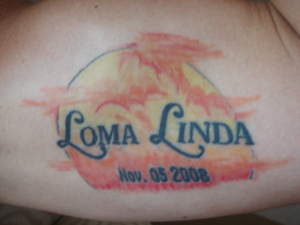 ---
Celebrating 55th Wedding Anniversary 13 Years After Proton Treatment (PSA 20, Gleason 8)
"Proton therapy at Loma Linda University Cancer Center changed me from a cancer victim to a cancer survivor; from a person filled with fear of death to a person joyfully celebrating life—past, present and future." The Rev. Dr. Federico I. Agnir was treated with proton therapy for his prostate cancer over 13 years ago. His cancer was aggressive. He had a PSA of 20 and his Gleason score was 8. He now calls himself a "full-fledged proton evangelist." His autobiography, "When God Calls," was written in 2013. One hundred percent of the proceeds go to proton research at LLUCC. Rev. Agnir recently told the BOB, "My wife, Ruby, and I are celebrating our 55th anniversary this month—life is good."
Here is a recent photo of Reverend Agnir with his wife, Ruby.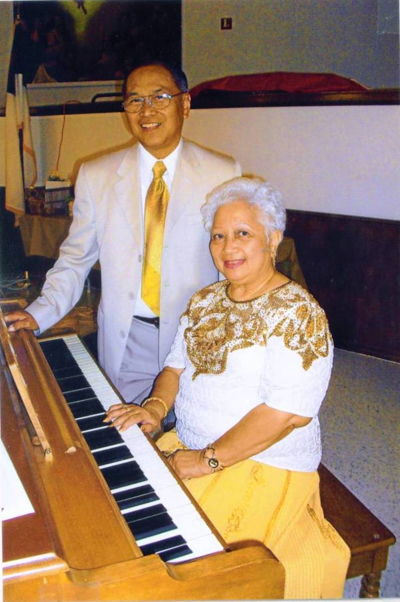 ---
After Proton Treatment, Outdoor Activities Abound
At the onset of John Stevens' diagnosis with prostate cancer, he started a blog titled "On the Path with Prostate Cancer" where he processed the highs and lows of his journey. 
Here is a recent photo of Peter with his bicycle on New Smyrna Beach in Florida.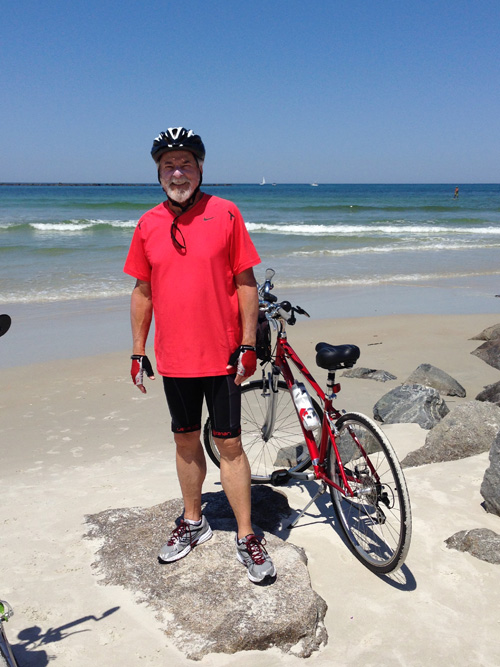 ---
Seventy-seven-year-old Avocado Farmer Walks a Vigorous "Two Plus" Miles Every Day Since Treatment Ended
Don Cardamon was treated with proton therapy at Loma Linda University Medical Center in 2013. Don says, "I had absolutely no side affects at all―none, zero, zilch―I feel great and could not be happier with the results of my proton treatment!" At 77-years-old, Don walks a vigorous two miles (or more) every day.
Don and his wife, Mary-Anne, are avocado farmers in California. They have about three hundred avocado trees surrounding their home on nine acres of land. During treatment, Don drove back and forth from his home, picking avocados each morning and bringing them to Loma Linda to hand out to his technicians in the treatment room. "But, I always had so many, they also ended up in patients' hands as well as the fellows that parked my car each day," Don laughs.
Since treatment ended, Don misses Loma Linda. "The comradery was wonderful," Don says. "And now, my mission in life is to spread the word about proton therapy to anyone who will listen." Don buys Bob Marckini's books (You Can Beat Prostate Cancer: And You Don't Need Surgery To Do It) in bulk and uses them as stocking stuffers at Christmastime.
Below is a photo of the view of the avocado grove from Don and Mary-Anne's home, a picture of one day's "pick" of avocados (about 5,000 pounds!), and a picture of Don wearing his avocado necklace. "That always gets a few laughs," Don says.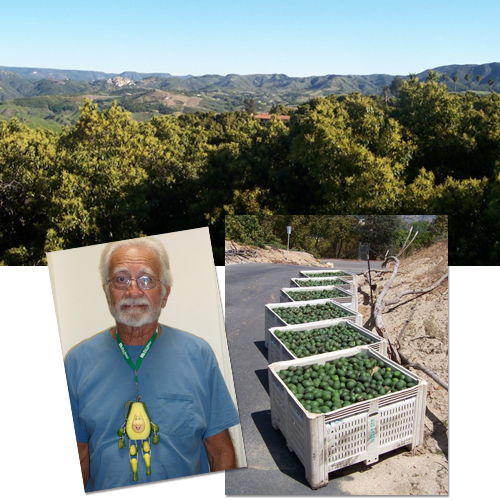 ---
Grandfather Credits Proton Therapy for Giving Him the Privilege to See Grandchildren Grow Up
Marvin Graham's "greatest experience in life" is being able to see his grandchildren grow up. "I was able to see my granddaughter get married to a wonderful young man," he told us. "I even had the wonderful privilege of performing the ceremony!"
Marvin is thankful for the "very special" experience he had at Loma Linda University Medical Center. "The staff was marvelous and so kind to my wife and me during our stay," he said. Years after his proton treatment, Marvin is "feeling great." His good health allows him to spend time with family and be active in religious activities with his wife, something very dear to his heart. He tell us, "many of our friends are always surprised to see me not suffering from any physical side effects like those we know who underwent surgery and/or conventional radiation for their prostate cancer."
Marvin and his wife recently contributed to proton research at LLUMC. "Though I can only donate a small amount," Marvin says, "I give what I can, because I expect to live much longer thanks to the treatment I received."
Below is a recent photo of Marvin and his wife.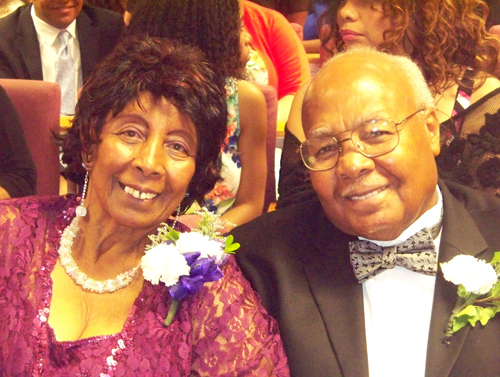 ---
Years After Proton Treatment, Skis and Bicycles over 5,000 Miles/Year
Ben Gero was treated with proton therapy for his prostate cancer in 2011. He will be 78 in three months. He is an avid skier—mostly cross country—as well as a cyclist. "Last winter I skied over five hundred miles, four to five days a week, and cycled about 4,800 miles," Ben told us. "I believe that as we age it is important to exercise. I may over do it, but it's what I do and I feel great afterward."   
Below is a photo of Ben with his bike.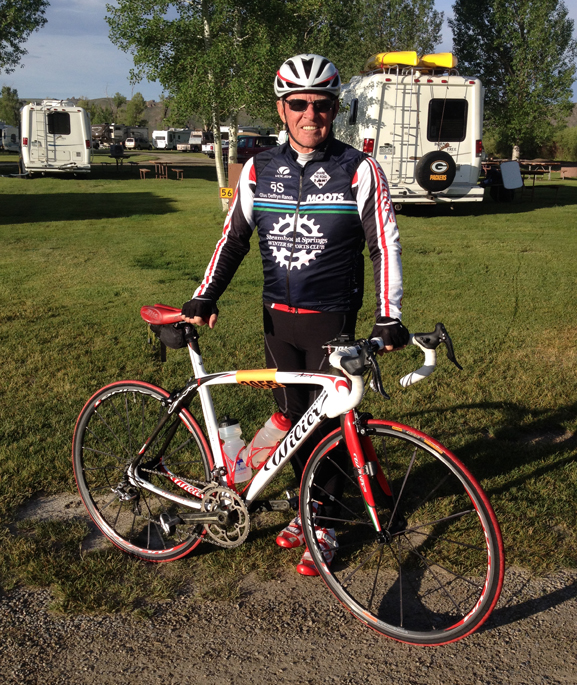 ---
Became Taekwando Master After Proton Treatment
Dave Pratt was treated for prostate cancer with proton therapy in 2007 at the age of 52 at Loma Linda University Cancer Center in California. Since treatment, Dave has been working hard in his project management consulting business and teaching project and program management in the corporate and continuing education program at his local college. He has also mastered Taekwando and teaches the sport as a volunteer at his local Boys and Girls Club. Eight years after completing proton treatment, Dave made the US National Team and competed at the Pan American Championships. "That was fun!" Dave said of the experience. He also told us he has referred many men to the Brotherhood of the Balloon and proton therapy over the years, "I'm 10 plus years out and going strong! I enjoy speaking to others about my proton therapy experience and outcome. When I retire in a year, I hope to do more of that."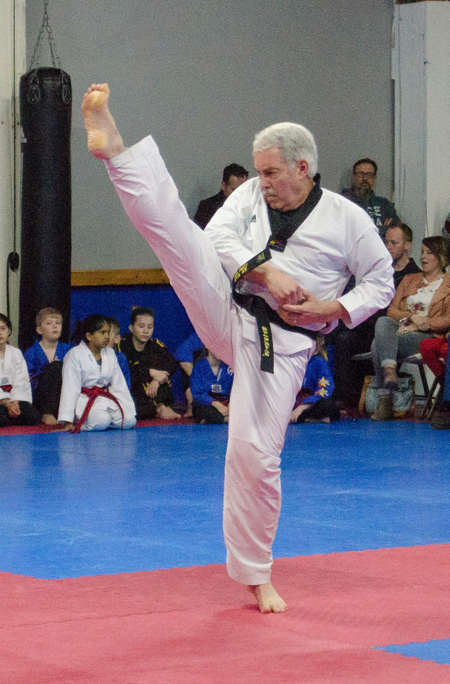 ---
Classic Car Enthusiast Enjoying Life Seven Years After Proton Treatment
Dennis Hall was treated for prostate cancer with proton therapy at age 66 at Loma Linda University Cancer Center in California. We recently spoke with Dennis who told us he "can't say enough" about his experience with proton therapy. Seven years after his treatment ended, he's feeling great. In addition to his love of travel, Dennis is active in his local classic car community. "I'm the proud owner of a '57 Chevy Nomad wagon," he said. "We drive this beauty to various shows and love the looks we get." Dennis said that being cancer free ensures he'll be able to enjoy his lifestyle for many years to come.
Below is a photo of Dennis, his wife Debby, and their fabulous Chevy.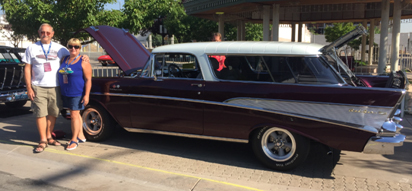 Want to speak with any of these men about their experience of proton treatment and life after proton? Let us know!