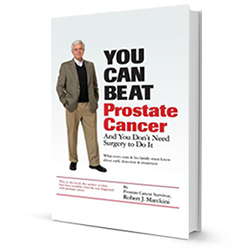 "After my proton treatment in 2013, I had no side effects and all systems are normal. Thank you, Bob Marckini. Your book saved my life and gave me the knowledge and courage to do what was right for me."
- Dave Ellis, BOB Member  
The book you need to read ...
You Can Beat Prostate Cancer 
BOB founder Bob Marckini's book eliminates the confusion about what to do about prostate cancer and how and where to get treated. Speaking from personal experience as a "graduate" of Loma Linda University Cancer Center's proton treatment program in 2000, he makes a strong case for considering proton therapy as a viable option for avoiding radical surgery and other treatment options. He dedicates his book, You Can Beat Prostate Cancer, to the "extraordinary people at Loma Linda University Cancer Center that saved my life and preserved the quality of my life."
Reviews
Written by a proton patient's daughter:
It took my dad months to complete his research [after he was diagnosed with prostate cancer]. And somewhere within those 4-5 months, he found Mr. Marckini's book, "You Can Beat Prostate Cancer: And You Don't Need Surgery To Do It." After he read it, he shared it with us, his family - my mom, my brother and myself. We all read it; in fact, I think we all read it twice (the personal stories make it an enjoyable read!).
It was as if God had put this book in our hands to tell us that my Dad would be okay and that he didn't have to have his life changed by having this horrible disease. The book explained EVERYTHING we wanted to know from someone who HAD BEEN IN MY FATHER'S SHOES. And not just anyone - Mr. Marckini is smart, genuine and his words are understandable. We didn't have to read through a bunch of medical jargon or listen to a doctor try to "sell" his own treatment option. Mr. Marckini was doing just what my Dad was doing - researching and learning. Then he went a step further to SHARE what he had learned through his book (and I will always be grateful to Mr. Marckini for it). And, years after, it was this very book that brought our family together to make a treatment decision for my father.
Written by a former proton therapy patient (Treated: 2007):
After the intial blow of "the news," what's next? Prostate cancer aims for all of us males. For some it will be a long time. For others (such as myself) it will be too soon. Tens of thousands of males every year repeatedly ask the question of their doctors and friends: "What would you do?" Listen to what they tell you, but first, read Bob Marckini's book so that you know what to expect and how you might predict their answer.
The amount of disinformation out there is amazing. Just now the Internet is coming alive with great information, but it takes much time to sort it out. Bob Marckini has done that. And he provides valuable feedback from actual patients (try getting that from your urologist) in addition to intriguing websites world-wide. New literature is appearing daily ... he takes you there. Where are the last approaches being done? You don't want to settle for the last doctor in the graduating class, do you? Find out how to listen to your doctor, your wife, your friends and others in this prostate area.
If you value the quality of your life and a dry pair of pants, give this book a read. Bob Marckini gives us a present in this time-saving primer on how to beat prostate cancer without surgery!
Click here to read ALL 300+ reviews on Amazon.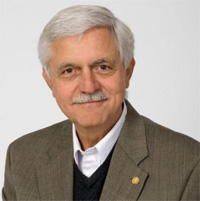 About Robert J. Marckini:
Bob Marckini is former Management Consultant and Senior V.P. for a Fortune 500 company. He holds a B.S. in Chemical Engineering, an MBA, is a Registered Professional Engineer, and a graduate of the MIT sloan School Executive Development Program. Bob is a director on three boards; he and his wife are active in local church and community activities.
Bob is a strong advocate for prostate cancer awareness and early detection. He founded and now manages the Brotherhood of the Balloon, an organization that provides support to prostate cancer patients around the world and raises money for cancer research.
An avid boater and "average" golfer, Bob lives with his wife, Pauline in Mattapoisett, Massachusetts. They have two daughters and one granddaughter.
Reviews from the Back of the Book:
I find Bob Marckini's book to be the best source of information available to men who are at risk of prostate cancer, or have been diagnosed with the disease.
—Ken Venturi
—Golf Professional and TV Personality
This book should be read by every man who is daignosed with prostate cancer.
—H. Terry Wepsic, M.D.
—Professor Emeritus of Pathology, University of California at Irvine, Research Professor at Long Beach, VA Healthcare
A landmark of a book.
—Ambassador Joseph Verner Reed
—Under-secretary General, United Nations
This book does an outstanding job of anticipating the questions that I and all new patients want answered.
—Jack Holt
—Former CEO ACNielsen
If you are diagnosed with prostate cancer, this is the one book you must buy.
—John Raynolds, Cancer Survivor, former CEO, Outward Bound
#1 Best Seller on LuLu Press:
You Can Beat Prostate Cancer: And You Don't Need Surgery To Do It reached the number one position on the best seller list out of two million books on LuLu Press this year. Lulu.com, the world's first open-publishing platform and top self-publishing website in the world, has helped over one million creators in over 200 countries and territories publish their works.
Click here to order on LuLu Press.
#3 on Amazon:
You Can Beat Prostate Cancer: And You Don't Need Surgery to Do It recently reached the number three position, out of 35,847 products (books, videos, merchandise), on a search for "prostate cancer" on the world's largest online retailer website, Amazon.com. This means more people are learning about proton therapy for prostate cancer.