Treated 2006 · Posted 2015
About Bud's proton treatment at Loma Linda University Cancer Center: "The Best holiday I've ever experienced ... As a Christian pastor and social activist, I'm not worrying about going to heaven … I'm already here!"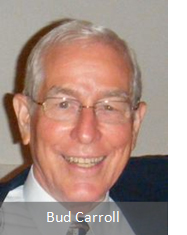 As a child growing up on Florida's west coast, Bud Carroll often heard his Mother say, "Don't dig too deep in the sand― you might end up in China."  Well, it looks like he didn't listen.  In February 1966, Bud, his wife Millie, and two small sons sailed for fifteen days from San Francisco to Hong Kong to serve as United Methodist missionaries.
Born in1937 and reared in St. Petersburg, Florida, the youngest of three children, Bud remembers how each classmate at his elementary school graduation was asked to tell what they hoped to be doing ten years later. Bud's response?  "I would like to play center field for the St. Louis Cardinals for six months and then drive a Greyhound bus." By the ninth grade he changed his mind; he wanted to be Governor of Florida.
Graduating from St. Petersburg College in pre-law, he continued his studies in Political Science at George Washington and Florida State Universities. 
Following graduation in 1960, Bud decided to attend Emory University's Candler School of Theology. When applying for his Local Preacher's License, he jokingly told the committee he observed there was more politics in the church than in government so he canceled his plans to run for governor!
Following three years of parish ministry in Florida, Bud and Millie spent six months in missionary training before sailing to Hong Kong.  For twenty years, Bud was involved in a wide variety of assignments; including campus ministry, social service projects, education, running a church camp, monthly preaching in "Florida Mandarin," and publishing a small quarterly entitled, "China Talk."
In 1986, Bud accepted an invitation to join the United Methodist Global Mission agency as Director of The United Methodist Program and executive in charge of TUMC related work in Cambodia, Vietnam, and Laos. In 1997, he returned to Hong Kong and served as Coordinator of The Amity Foundation's Hong Kong Office. The Amity Foundation is a Mainland Chinese Christian-initiated organization involved in development work in the poorest regions of China. Since 1988, Amity's Nanjing printing plant has printed more than one hundred million Chinese Bibles.
In 1996, while leading a workshop on China, Bud was rushed to a nearby hospital for a medical condition. Blood work showed his PSA had soared to 83! A biopsy performed in New York was negative and Bud was diagnosed with prostatitis. Following treatment, his PSA dropped back into the normal range.
In 2003, following his second retirement, Bud began serving as pastor of a small United Methodist Church on the island of Saipan. In early 2005, his family physician alerted Bud to a rise in his PSA.  Like many doctors, he noted, "Don't worry―most men die with prostate cancer, not from it."
In 2005, Bud flew to the Philippines to consult a urologist specializing in prostate cancer. The doctor also suggested active surveillance. Two months later, Bud's PSA rose to 18. He then went to Guam for a second round of biopsies. This time, prostate cancer was detected. Back in Saipan, Bud's doctor listed several possible treatments; proton was not one of them. Repeating the traditional "most men die with …" mantra, the doctor also agreed with Bud, "If you can have both quantity and quality of life, go for it." 
A Saipan parishioner told Bud that his uncle had undergone proton treatment in Boston, and he highly recommended it. This news led Bud to contact Bob Marckini and pursue treatment at Loma Linda University Cancer Center in California.
Upon arrival in Loma Linda in late February 2006, Bud's PSA had reached 18. Following his consult and pod fitting (he called it his "casket!"), Bud settled into the standard proton therapy routine.
Regular participation in two residential weekly pot-luck dinners and the Wednesday night sessions were among the highlights of Bud's time at Loma Linda. The caring and competent staff and friendship with so many fellow patients and their families, helped forge what Bud noted in his farewell remarks at the Wednesday night meeting, as, "The Best holiday I've ever experienced." He concluded with these words: "As a Christian pastor and social activist, I'm not worrying about going to heaven … I'm already here!"
Bud now lives on a small island in Hong Kong enjoying his "third retirement." He keeps busy as a guest preacher in a small Filipino Methodist Fellowship and a community church. His PSA remains steady around 0.1 and he seeks every occasion to tell others about the miraculous ways God is at work at LLUCC.