Treated 2004 · Posted 2016 · Updated 2019 & 2020
Have a high Gleason score?  There's hope!
Gleason 9?  How could it be?  After all, I had been seeing my urologist, who had been keeping an eye (and a finger) on my enlarged prostate for years. When I received the phone call from my doctor in early 2004 to report the results of my biopsy, I thought, I'm so unprepared to make such an important decision about treatment.
I hit the Internet with intensity and learned about the many options and possible side effects associated with each. I called people I didn't know and asked them very personal questions. 
Everybody was open, honest, and helpful. Twice I called BOB founder, Bob Markini.
The learning curve was steep, but the stakes were high. I knew that my cancer was aggressive and treatment would have to be aggressive.
I decided on proton radiation. My doctor stated had told me that the gold standard was radical prostatectomy, and seeking his support, I asked him, "would I be making a mistake if I chose proton radiation?" To my considerable relief, my doctor said, "no."
He called Loma Linda University Cancer Center (LLUCC) in Loma Linda, CA, at the time the only place in the country offering this type of treatment.
The voice of that unknown person, 2000 miles away, became so very important. She represented hope for my life.
Because of my high Gleason score, and before I could be accepted for treatment, I needed an endo-rectal coil MRI to verify the cancer was contained within the prostate. The equipment was found at the Cleveland Clinic and an appointment was made. Upon arrival I learned that the doctors were in the process of learning how to operate the new equipment. I turned out to be the sixth patient they worked with and before a fee schedule for the procedure had even been established. That experience was like spending seventy, claustrophobic (yet tolerable) minutes, in a "torpedo tube" listening to other worldly loud noises. The MRI reported good news; The cancer appeared to be contained within the prostate; therefore I could have proton therapy.
My treatment began with a two-year Lupron hormone ablation program. Being on Lupron was difficult, but the end result was good motivation. 
My wife, Betty, and I drove to California and visited several National Parks along the way.
Treatment began shortly thereafter. 
We attended a Tuesday night Potluck dinner put on by a former proton patient and his wife. All of the proton patients introduced themselves. When it was my turn, I mentioned I was a retired school counselor, former Navy carrier based aircrew, and my PSA was 6.1 with a Gleason score of 9. There was an audible gasp from those assembled when my Gleason was mentioned; a powerful moment to remember. 
I continued with 21 proton treatments and the balance being conventional radiation. I am one of the few who experienced a "light show," which were like fireworks clearly seen with closed eyes each time protons flowed.  It happened during only one session. Stray radiation?)
While in the pod, I composed the "yet to be famous and often unsung" Zappity Do Dah (sung to the tune of the Disney song Zippity Do Dah from the movie Song of the South).
Zappity do dah, zappity a,
My oh my what a wonderful ray,
Plenty of protons headin' my way,
Zappity do dah, zappity a.
Oh mister patient's in his holder,
inserted, deserted, modulator wheel starts turnin',
Zappity do dah, zappity a.
Wonderful feelin' wonderful ray! 
On the final day of my treatment at LLUCC, I gave a rose to all of the staff who were kind and helpful.
Upon my return to Michigan and feeling better, I asked my urologist about the color of a prostate gland and learned it is the color of liver. I had kept my bolus from treatment and had an idea (Remember, I really like my urologist). I used each bolus as a Jell-o mold (dark cherry is about the right color) and joined the halves with tooth picks. I considered asking my doctor for dinner and serving that creation for dessert. After reconsidering, I took a picture of my grapefruit-sized Jell-o prostate creation and gave it to my doctor. 
In 2011, Betty and I moved to Florida. I spend considerable time as co-chair of The Black Diamond Invitational Car Show. I have two hobby cars, a mid-engine conversion Corvair and a 600 horsepower kit Cobra which weighs 2,400 pounds. The license plate reads "4LBS 1HP" (car guys will understand it is the car's power to weight ratio).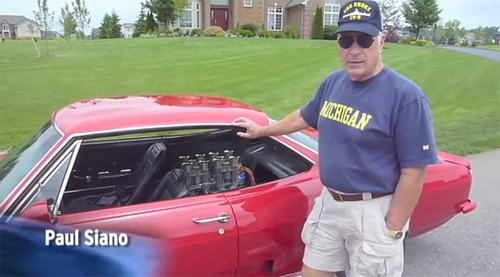 It is now 2016. It has been twelve years since my treatment. At age 75, my PSA is holding steady at .30 with no significant side effects. 
Have a high Gleason score?  There's hope!
Watch a video about Paul's V-8 Corvair Crown Conversion.
Learn about Paul's latest gig—he's co-chairman of the Black Diamond Invitational Car Show.
Update: October 2019
"I'm doing fine. My PSA is so low it didn't even get discussed at my yearly appointment recently ... It started low and has been trending downward for 15 years ... At age 79, I still play with cars. The Black Diamond Invitational Car Show, held on one of the fairways in our community, is this weekend and I have two cars which will be part of it. I helped place a car in the Club House lobby in front of the fireplace this morning. It seems, the older I get, the happier I get."
Update: April 2020
"Gleason 9, 16 years ago, doing well!"