Treated 2011 · Posted 2015 · Updated 2016 & 2021
As a whole, my treatment was an unbelievable experience that I will never forget. LLUCC, the BOB, and the friends I have made along the way will be in my heart forever."
I was treated with proton therapy for my prostate cancer at Loma Linda University Cancer Center in 2011. During my treatment, I felt well enough to hike, golf, and do anything that I wanted to do. In fact, I hit golf balls daily as the condo where I stayed was two minutes from Indian Canyons Golf Club in Palm Springs. Returning to St. Louis after treatment my golf handicap was the best ever! I traveled from Palm Springs to Loma Linda each day to receive my treatment (about an hour away); we left about 4 p.m. and was in back in Palm Springs to enjoy dinner nightly amongst the beautiful mountains and palm trees. We stayed after my treatment in Loma Linda on Wednesdays to attend the Wednesday Night Meetings with Dr. Lynn Martell.
Side note: During one of the Wednesday Night Meetings, Historian Richard Schaefer spoke to the group. As you may know, LLUCC's mission is to "Make Man Whole" - treating each patient body, mind, and spirit. Well, Richard spoke about that mission, mentioning that LLUCC had instituted that theme as the hospital's motto in December, 1956—the very month and year that I was born. During his talk, my wife Alison and I looked at each other, believing this was no coincidence.
There were many other interesting "signs" that we came across during our proton therapy journey at Loma Linda. Because of these signs, I knew I was in the right place, at the right time, having made the right treatment choice.
Regardless of the long-term outcome, this was my destiny. 
LLUCC: December 27, 1956: "To make man whole," first chosen as the theme for the 1955, year-long 50th anniversary, adopted as institution's motto.
View the full LLUCC timeline here.
As a whole, my treatment was an unbelievable experience that I will never forget. LLUCC, the BOB, and the friends I have made along the way will be in my heart forever.
Four years after my treatment ended, I am doing very well—I keep healthy by spending time working out with a personal trainer, golfing, and utilizing a wellness coach that practices a therapy called "Healing Touch." My PSA is 0.06 and I have absolutely no side effects from treatment.
Today, as president at Leon Uniform Company in St. Louis, MO, I am working hard  growing my business, implementing a new management style, instilling a new cultural change, and building a solid platform for the future. My goal at age 62  is to reduce my workload, slow down to enjoy my family, hobbies and life's pleasures.
Update: February 2016
My most recent PSA is 0.30. YEAH!  Same as back in August.
I can't believe that it has been almost 5 years.
The photo below was taken during my proton treatment. I am at the top of one of the mountains in the Andreas Hills area of Palm Springs. It overlooks the Indian Canyons Golf Course.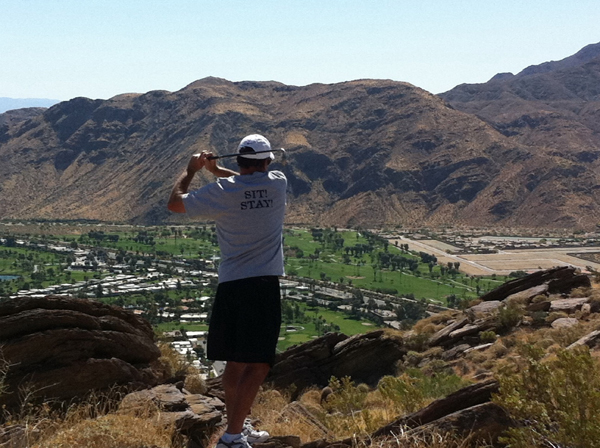 Update: October 2021
I'm feeling very overwhelmed with joy and appreciation in hitting the 10-year milestone since my proton treatment ended!
I feel so blessed to have found Loma Linda and proton therapy.
I'm also so thankful to the BOB for their efforts and all the time they've spent spreading the word about proton therapy. It's beyond description! The thousands of lives and families Bob Marckini has impacted is a miracle in itself. Thank you to Bob from the bottom of my heart! I will continue to help as I have done in being an advocate for proton therapy.
I also celebrated my 60th birthday six years after treatment in Scotland with some buddies. 
And in the past 10 years, five grandchildren have arrived on the scene! Who knew that grandchildren could actually be better than your own kids?! LOL...
Today I spend time with family and the grandkids, golf, and little by little, less work.
The photo below was taken in Scotland.