Treated 2008 · Posted 2013 · Updated 2015
"As a practicing physician, my colleagues were unfamiliar with proton therapy and strongly urged me to have 'traditional' therapy. However, when I researched my options, it was obvious that the best choice for me was proton therapy."
I am an Orthopedic Surgeon from Houston, TX. The diagnosis of prostate cancer came as a shock in 2005 and my homework began immediately. I talked with as many people as possible [who had also had prostate cancer]; most had undergone surgery and a few had radioactive seeds.
After four rounds of unpleasant biopsies, I decided that it was time to make a decision. Several of the people I'd spoken with had experienced impotence and daily leakage of urine; so, surgery was eliminated as an option. During my orthopedic training days the old saying, "there is no surgery that you can't screw up," came in loud and clear.
Out of the blue, an old friend from the U.S. Air Force called and told me that he had elected to have proton therapy for his prostate cancer. He had visited and chosen a treatment center, Loma Linda University Cancer Center in California. It was around this time that I read Bob Marckini's book, "You Can Beat Prostate Cancer: And You Don't Need Surgery To Do It." This was one of my most valuable pieces of "homework," and it was a strong influence on my final treatment decision.
Shortly after speaking with my friend and reading Bob's book, I inquired with LLUCC and received a lot of good information. I later was accepted and began my treatment late in 2007.
As I recall, treatments began at 5 a.m. and I was fortunate enough to get a 5:15 a.m. slot. Treatment was a breeze. I also had use of their beautiful workout facility (Drayson Center), which was included with my treatment.
It has been almost six years since my proton treatment. I feel great; I have no significant side effects and my latest PSA, taken just last week, was 0.4.
I have no regrets and am so grateful that my old neighbor from Edwards Air Force Base came along at the perfect time and convinced me to visit Loma Linda.
Ken just turned 70. Below is a photo of Ken with his family. He has four children and eight grandchildren (two are missing from the photo).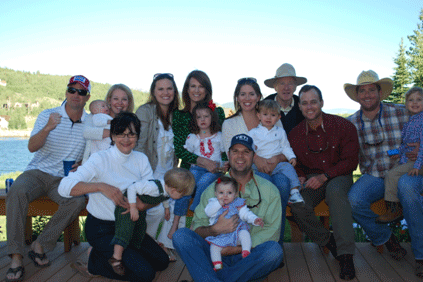 Here is another photo of Ken (right) on the Kispiox River in British Columbia, Canada. He is enjoying one of his favorite activities (photographed with a native guide).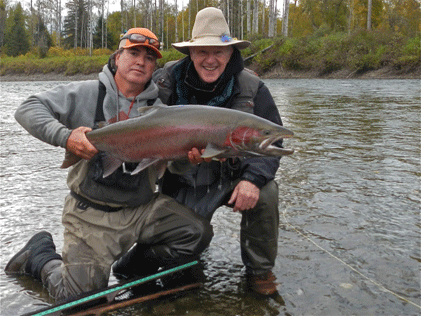 Updated 2015:
I feel pretty good for a young at heart 72-year-old. I have never questioned my choice of proton treatment at Loma Linda University Cancer Center. Even though my home of Houston has the largest medical center in the world, I believed that Loma Linda had the experience and culture for great care-giving and exceptional treatment. I believe that my assessment was correct.