Treated 2004 • Posted 2016 • Updated 2017 & 2018
"These days, 12 YEARS after my proton treatment, I stay pretty active as I belong to the Y and attend yoga classes, lift weights, and swim three days a week (plus yoga at home and walking around the neighborhood)."
Some Background
I spent my career in a research laboratory. It began at the National Animal Disease Laboratory in Ames, IA where I went to work after receiving my Master's Degree from Iowa State University and pursued my Ph.D. while working on a project at the Disease Laboratory. My interest and research was mostly concerned with the effects of mold toxins (mycotoxins) found in grains consumed by animals and humans and the effects on the immune system. 
I was a member of a team of investigators that were concerned with the effects of mycotoxins on animals, in general, as mycotoxins were basically discovered in the early 1960s as a problem in livestock and therefore, potentially, humans. We found that many of these mycotoxins were immunosuppressive, allowing for recipient animals and humans to become more susceptible to infections by other microorganisms due to the lack of an efficient immune response.
I received my Ph.D. from Iowa State University in 1968 and served on the Faculty of Toxicology as Adjunct Professor of Botany and Plant Pathology at the University. Later, I was asked by the Agricultural Research Service of the USDA to move to Peoria, IL and become Research Leader of a Mycotoxin Research Unit studying mycotoxin production and occurrence in field crops, genetic pathways of production and various testing procedures for these mycotoxins in a variety of commodities and substrates.  
I retired from the government after 34 years of research with over 200 research  papers in various journals, and was hired by Romer Laboratories, a mycotoxin testing laboratory company, in Union, MO to be, first, the Executive Vice President, then CEO and President. I retired from Romer in 2005 and moved to Cave Creek, AZ. But, I remained, for 10 years, a consultant to Romer and also as an independent consultant to various companies, mostly those in the pet food industry. I fully retired in 2015. 
My Prostate Cancer Diagnosis
I was diagnosed with PCa in August of 2003 after seeing fluctuations in my PSA due to prostate infections. However, my PSA finally reached 8.7 and I was biopsied with Gleason of 6 or 7 (depending on which pathologist read the slide). After my diagnosis, I turned to the Internet to begin my research on treatment options. I knew I did not want surgery. My brother had surgery and had many years of incontinence and ED as well as a rising PSA several years later. 
Fortunately, I learned about the Brotherhood of the Balloon online. Incidentally, on the same day, my sister-in-law heard a commercial on the radio about proton therapy at Loma Linda University Cancer Center in Loma Linda, CA. I began researching more about proton therapy. I found some testimonials from former LLUCC proton therapy patients on the BOB website and read through most of them. 
I also called a few former proton therapy patients. Each of them gave great praise to the procedure and talked about the fact that they'd suffered no side effects. I set up a consultation with LLUCC the first week of November in 2003. My decision was made rather quickly thereafter.
On November 18, I began my first treatment and finished on January 20, 2004. 
My 4 month PSA following treatment was 0.8 and then at six month intervals went from 0.4 to 0.2 to 0.2 to non-detectable. It has been non-detectable since (12 years!). I had no side effects during treatment except frequency of urination toward the end of treatment. I also had mild rectal bleeding during the first year after treatment, but only from time to time. 
After moving from Missouri to Cave Creek, AZ in 2005, I found that there was a support group consisting of a bunch of women who had all had breast cancer. I told one of them about my proton therapy treatment and was asked to give a talk about my experience and describe proton therapy.  
After my presentation, many people came forward to find out about this "new" treatment. After advising a few other men from our church with PCa, at least two sought proton treatment - one went to LLUCC. 
A group of us began to get together regularly and we soon had volunteers as coordinators for luncheons, Christmas parties, seminars, etc. We developed the name ACTII - Beyond Cancer and developed a mission statement: "Welcome! This is a very caring group whose lives have been touched by cancer.  We hope you'll find strength and inspiration from our own personal stories, discussions, and expressions of caring.  We have already walked that road." 
This support group now has a steering committee and a coordinator (another BOB member). We have an introductory brochure that was developed for handouts and I initiated an email newsletter a number of years ago that includes information found by searching the Internet, research abstracts, and information from the BOB Tales and Mayo Clinic newsletters. 
These days, 12 YEARS after my proton treatment, I stay pretty active as I belong to the Y and attend yoga classes, lift weights, and swim three days a week (plus yoga at home and walking around the neighborhood).
I also taught myself carving and since I'm a birdwatcher, I carve birds and sell them at a shop in Cave Creek. 
- John L. Richard, Ph.D.
Update: 2017
The BOB checked in with John in early 2017. We learned that he is still heavily involved in the ACTII group. He writes what he calls "eNOTES" - like a newsletter, sent out via email "when I've gathered enough valuable information" (some which he obtains from our BOB Tales newsletter) to some 60 members. The group is made up of cancer survivors, their spouses and caregivers, and locals who are just interested in learning about the latest technology and different treatment options for cancer. 
John is still very active. He practices yoga, swims, and lifts weights at his local YMCA several days a week. He also plays the guitar and sings - sometimes for a local retirement center. In his "spare" time, John continues to carve birds and other animals. 
When we asked how he is feeling, John said, "I feel fine, except for a few age-related things - nothing serious." He told us his PSA is still non-detectable and has been that way for 13 years now.
John also told us that he often checks in with his old employer, Romer Laboratories. "Over the years, some of my co-workers and friends have passed away. When I learn of their passing, I typically make a donation to proton research at Loma Linda University Cancer Center in their name. I think it's a nice way to give memorial money. LLUCC then follows up to let them know that a contribution has been given in their name."
At the end of our conversation, John said, "I want you to know that the work you do is appreciated. Thank you."
Thank you, John, for all you do to support proton therapy for prostate cancer.
Here is John holding a few of his prized wood carvings!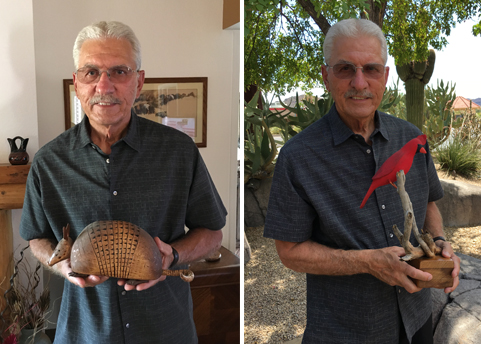 Update: 2018
I had my treatment at LLUCC from Nov. 2003 to Jan. 2004 and had the usual 6-month PSA checks and still do. I am happy that I have now passed 11 years with a non-detect PSA.  Yes, thank The Lord for protons.