Treated 2009 · Posted 2015 · Updated 2016
Hugh registered for a sprint triathlon during his proton treatment and you won't believe how his life has changed post-treatment ... "When I was being treated, I never thought about how certain aspects of my experiences at Loma Linda University Cancer Center would profoundly impact and influence my 'post-proton' life." 
Hugh Armitage was born on September 4, 1954 in Toronto, Ontario, Canada. He attended college at the University of Western Ontario in London. Upon graduation in 1985, he started working as a junior engineer at Golder Associates. He was later promoted to senior engineer and then associate in the late 1990's before transferring to Atlanta, Georgia. He later accepted a position with Atlanta-based Southern Company, a large electric utility business where he remains today. Hugh and his wife at the time had their first daughter, Nicole, in 1985 and their second, Jill, in 1995.
Many years later, in the fall of 2008, Hugh was diagnosed with prostate cancer. His immediate reaction was one of anger—not because he had cancer, as he was genetically destined to be diagnosed since both his grandfather and father had had the disease—but because he felt he was young, at age 54, when the news came. "I thought I had at least 15 to 20 years before I had to face the dreaded prospect of cancer," Hugh told us.
Once the anger wore off and he accepted reality, Hugh's education and experience as an engineer led him to do a lot of research and look at many treatment options thoroughly and methodically. Hugh's friend, Dick, introduced him to proton therapy. Dick had had a radical prostatectomy in the late 1980s. Years later, Dick's cancer returned. As he began to investigate possible salvage treatments, he learned about proton treatment. But because his cancer had metastasized, he was not a candidate for proton. "He told me he wished that proton treatment had been available to him when he was originally diagnosed," Hugh said.
Dick's experience prompted Hugh to further investigate proton therapy and contact Loma Linda University Cancer Center in California. They sent Hugh a copy of Bob Marckini's book. "Reading 'You Can Beat Prostate Cancer' almost sealed the deal," Hugh said. "I then visited ProtonBob.com, read the testimonials on the website, and contacted many BOB members on the reference list to learn, first-hand, about their experiences."
Hugh then traveled to California and sat in on one of LLUCC's Wednesday night meetings. "I talked to many men after the meeting," Hugh said. "I also talked at length on the phone with a BOB member in Houston. He was really instrumental in helping me make my final decision about proceeding with protons. It came down solely to the prospect of a better quality of life after treatment."
"When I was being treated, I never thought about how certain aspects of my experiences at Loma Linda University Cancer Center would profoundly impact and influence my 'post-proton' life," Hugh said. In treatment, Hugh remembers Dr. Lynn Martell, DMin, Director of Special Services at Loma Linda University Health, talking to all the new patients. He told them that he expected to see all of them at LLUCC's Drayson Fitness Center regularly and that adopting a proper diet was part of LLUCC's overall treatment philosophy to "Make Man Whole."
Hugh took Dr. Martell's advice seriously. He began to swim on a regular basis at the Drayson pool; he rode his bike daily around town; and at the urging of his daughter, during her visit early on in his treatment, Hugh began running.
"At that time, I had not run in probably 36 years," Hugh said. "The first mile with her was brutal.  I probably walked three quarters of the way and huffed and puffed the other quarter mile." But, Hugh persevered. And soon after, he did something he neverwould have considered doing in his younger days—he signed up for the "TINMAN" sprint triathlon in neighboring town, San Bernardino, during his proton treatment.
Today, six years later, Hugh tells us he is feeling great. His health is good; he works full-time; he frequently takes part in local road races; he bikes, and he swims. Last year, Hugh competed in 33 events including a marathon in Paris, a half Ironman, and a full marathon in Chicago. This year he's taking part in the Berlin Marathon and the New York City Marathon. Next year, he's planning to compete in the the Los Angeles Marathon, the Rome Marathon, and possibly the London Marathon. He's also considering another half Ironman in either Spain or New Zealand. 
As we say of many of our members and their energetic lifestyles, "It must be the protons."
Below is a collage of photos of Hugh from the many marathons, half marathons, and triathlons that he's competed in.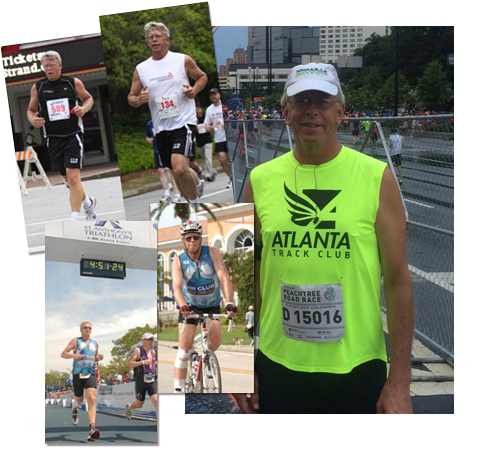 If you'd like to speak with Hugh about his experience with proton therapy, let us know.
Update: December 2016
It all started in June 2009 with the participation in my first triathlon at the the Possibilities sprint triathlon in Loma Linda. This Sunday, I will be competing in my 200th competitive event at a 1/2 marathon here in Atlanta.