Treated 2009 · Posted 2013 · Updated 2015
"I steadfastly remain convinced that the real gold standard treatment is practiced at Loma Linda University Medical Center."
Just the day before yesterday I received the results of my four and a half year PSA test. It has been stable at almost undetectable levels which is very good news. I remain completely indebted to Bob Marckini's book, "You Can Beat Prostate Cancer: And You Don't Need Surgery To Do It," and ultimately the treatment I received at Loma Linda University Cancer Center. Although I was unable to get even a partial reimbursement from my provincial health system, I look upon the money spent as the price of a new car or truck. My health and quality of life supersedes all of that.
Every month I look forward to the BOB Tales newsletter which always contains interesting stories and updates on the progress of proton therapy. Upon receipt of the newsletter I immediately forward it to my sons and son-in-law and to keep them aware of the wonderful benefits of protons should they ever need the cure.
My experience at Loma Linda was an unforgettable event. The treatment I received was of the highest standard and delivered by a most professional, helpful and cheerful staff. My doctor was incredible and straight forward with his diagnosis and friendly delivery. Both my wife, Fran, and I were most impressed after our initial consultation.
I must not forget Dr. Lynn Martell at LLUCC, the most inspiring person I have ever met. We will never forget the Christmas dinner at his home (he does this every year for patients and their families during treatment). My wife jokingly mentioned that we would prefer to be seated in the bathroom for dinner as I might be in need of the facility. Well, that is exactly what happened although one could never recognize the room for what it was. It was beautifully decorated with a table setting fit for a king. We realized that to accommodate the 90 some guests Lynn and his wonderful wife had to be creative. It remains to be one of our cherished memories of Christmas of 2008.
It has been nearly four and a half years since my last treatment on the 9th of January, 2009. Three days before that date I was free falling out of a Twin Otter aircraft at 13,000' with a group of Canadian paratroopers training at Perris Valley , CA. What a thrill. Wasn't I in treatment for prostate cancer?
Four months later I was climbing a 9,000 foot mountain with my two sons and two grandsons. This was in honor of two comrades whose ashes we let fly in the wind on top of Mount Normandy, so named after one of the battle honors of the 1st Canadian Parachute Regiment who were among the first troopers to land in Normandy on June 6th, 1944. Would I have been able to do all this if I had one of the various other "gold standard" treatment modalities? I think not.
I steadfastly remain convinced that the real gold standard treatment is practiced at Loma Linda University Cancer Center.
The picture below is Gerry, four months post-proton treatment, with his grandsons on the summit of Mount Normandy.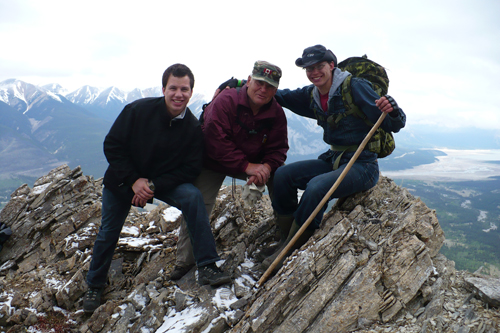 Update 2015:
I was happy to be able to help out at the recent Quartzsite event in which Loma Linda University Cancer Center staff and BOB members manned a booth. My wife Fran and I are currently holidaying at the Arizonian RV resort in The Gold Canyon area East of Apache Junction. I recently recommended LLUCC to an ex-Canadian military fellow who is now in the process of signing up for proton treatment. I am sure he will soon realise that he made the right decision. I am looking forward to hearing from him.
Back in November, Fran and I visited Loma Linda and enjoyed the potluck and the Wednesday evening get together. It was a pleasure to see Clyde March and Dr. Lynn Martell again. Lynn even charmed us into an interview on his television program. It was great fun.
It is now six years since my treatment and enjoying life to the fullest harbouring an almost undetectable PSA. Long live the proton treatment center at Loma Linda!