Treated 2008 • Posted 2017
"Since treatment, in all aspects, I am fortunate to have a completely normal life. I've had absolutely no (ZERO) side effects."
I learned about proton therapy from a Brotherhood of the Balloon member. He was the son of my sister's friend. I chose proton therapy after talking to him and then having an initial visit at Loma Linda University Cancer Center (My wife and I loved the atmosphere and caring staff. Loma Linda was an easy decision!). My reason for going with proton? Mainly because it was less invasive and definitely had fewer side effects than the other options. 
I found the staff doctors at LLUCC friendly and helpful. All of my questions were answered.
The first few weeks of the treatment made me tired. But by the third week, I felt better. Being a runner, swimmer, and racquetball player, I took advantage of track, pool, and racquetball courts at LLUCC's athletic center. Also, I really enjoyed a weekly massage!
I also visited with LLUCC's dietician and modified my diet which I still try to follow to this day.
Also, I was at LLUCC over Christmas and one of the doctors had everybody currently undergoing proton therapy over to his house for Christmas dinner! He and his family certainly went beyond the call of duty!
Since treatment, in all aspects, I am fortunate to have a completely normal life. I've had absolutely no (ZERO) side effects.
Nine years after treatment, I walk 3.5 miles around Lake Harriet in Minneapolis almost daily. I spend Jan-March in Naples, FL playing golf, pickleball, swimming, and walking.
I feel very blessed to be enjoying good health and I am probably in better shape now than at 45. In addition, I am on the Board of EWI Worldwide, and attend four meetings per year in Detroit, my home town.
I have talked to many men diagnosed with prostate cancer. I always tell them to investigate proton therapy, read Bob's book, and realize that surgery will almost always result in undesirable side effects. I have found that the reason most men don't choose proton therapy is because they want the cancer removed from their body. Even after suggesting they contact Brotherhood of the Balloon, they still select surgery and most have had unacceptable results. My background is sales and I am disappointed when I cannot convince someone on the benefits of proton therapy.
Below is a photo of Dave hiking in the Superior National Forest in Northern MN, September 2017.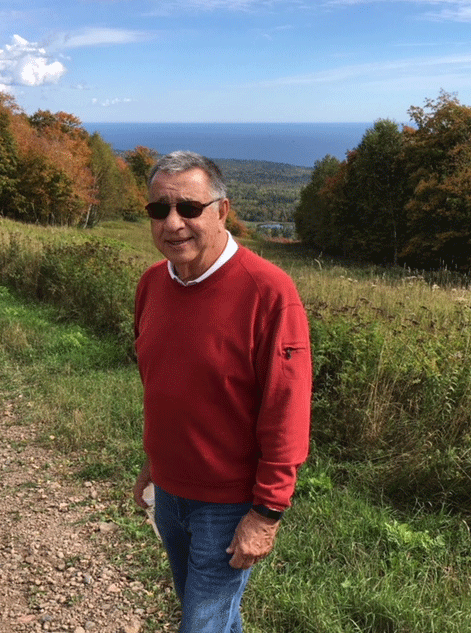 Here is another photo of Dave hiking at Gooseberry Falls, also in Northern MN.