Treated 2001 · Posted 2001 · Updated 2014, 2016 & 2019
"PSA 436 - good heavens!"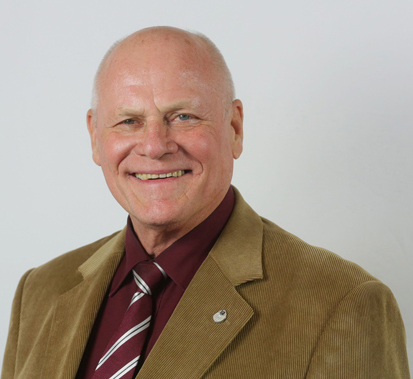 My name is Arnd Hallmeyer. I'm living in Berlin, Germany working as a physician in the field of occupational medicine. I was 57 yrs. when I was diagnosed with prostate cancer. PSA 436, Gleason app. 5 (not common in Germany), 4 of 7 biopsy cylinders with adenocarcinoma.
In the beginning of my professional life I worked as a nurse in surgery and after the medical education as a surgeon. I participated in some surgeries of prostate cancer patients, and I still remember all the bad situations of these poor patients as I became older. I never have had any problems or symptoms in relation to urination or sexual things. And, I did not undertake any prostate cancer check-ups. I was afraid of ever being faced with the diagnosis of prostate cancer and having to go through the same terrible experience of radical prostate surgery because I have seen the outcomes of impotence, castration, and wearing diapers for the rest of my life. The decision I made was NOT to contact any urologist. To me, it seemed to be better to die than to live a life after prostate surgery.
Once I developed heavy bone pain, my wife - also a physician and my personal family doctor - started to do several investigations. She was also searching for tumor markers - and of course PSA. The surprising PSA result was 436!
I became deeply depressed, thinking of the end of my life. I remembered my father who tragically died at the age of 58 yrs. from prostate cancer and lots of metastasis in the liver and kidneys.
Now it was my wife's turn and she was to do her job with me as she had done with other patients. She sent my results to one of the best urologists and he started searching for the best hospital and the best surgeon for treating prostate cancer.
When I was asking a well-known radiologist for the best surgeon he knows, his answer was: "You don't need any surgeon, all you need is Loma Linda!" I never heard this name before and had no idea what Loma Linda was. Is this a medicine or a mystic? "No", he answered, "It's the only place in the world you can be healed". That's when I called my daughter Sigrun - also a physician who worked in a large hospital in Harrisburg, Pennsylvania and now in Chicago - and asked her about Loma Linda. She made a lot of phone calls, did Internet research and found a way to Loma Linda University Medical Center, to Prof. James Slater, Dr. Rossi and Sharon Hoyle.
We had some difficulties because of the distance between Loma Linda and Germany and - more - because of the very high PSA. Lian Funada and all the nice women of the department of the International Circle of Care of the LLUMC did a great job and took me into the line.
In the middle of December 2000, I made my first visit to Loma Linda and started the treatment in the early days of January 2001. I received Protons, and - because of the extremely high PSA - photon treatments, too. In addition I received hormone blockers for more safety.
When I came to Loma Linda everything was foreign to me. I didn't have any experience being a patient. I never visited a doctor or a hospital as a patient before in my life. And I didn't have experience with living a daily life in the USA: I had to rent an apartment, a car, and a phone, and I was doing all of the daily work such as shopping, cooking, washing clothes, cleaning the rooms, etc.
My English at that time was very poor and I had some language difficulties, too. But it was very surprising to me, to find lots of good friends suddenly. Each person I met in and around the hospital, in the Proton Treatment Center and in the international circle of care was so friendly and helpful to me. I got the feeling of not being a stranger or patient but coming home to a family after a journey. And for me as a physician and now a patient it was very impressive to experience the benefits of the whole treatment and the care of the employees. The people of the LLUMC were not only treating the disease, they were also healing the bad shape of the soul and sharing the special spirit of Loma Linda. And I found more and more friends. Lynn Martell and the nice people of the office of advancement, and - finally - Bob Marckini and Jerry Klein and the Brotherhood of the Balloon and lots more of unknown names. This way I was able to adapt to the situation. I changed the treatment time to early in the morning or the late evening and got a chance to do outings and to go hiking in the high mountains of the San Bernardino valley several times. Coming closer to heaven, I found a better way back to earth.
I graduated in March 08, 2001 and continued the hormone blockers one more year which included terrible hot flashes and which stopped in January 2002. The last measurement of PSA was undetectable (Sept 2002). I only got negative side effects from the hormone blockers. I experienced no urinary bleedings, no pain, but only some intermittent rectal bleeding in August/September 2002.
Update: February 2016
It is now 2016 – 15 years later.  I'm still doing very well overall.  My PSA has been steady at 0.1 ng/mL over years, and I have normal bladder and bowel function.  I found the road again, and have realized that the best place for healing remains Loma Linda, CA.  I have referred countless patients out of my own practice to Loma Linda and have repeatedly witnessed the transformation of devastated cancer patients to thriving survivors.  They experienced the cutting edge technology, and were exposed to the highly motivated, well trained and deeply empathetic staff and received holistic healing addressing their physical, psychological, emotional and spiritual healing.  I have been touched deeply first personally, and now professionally – and this experience has saved, changed and inspired my life.
I am immensely grateful to Loma Linda for lighting my path to my ongoing life with high quality and true personal happiness and fulfillment.  I am now almost 75, and still able to work full time in my profession as physician manager of two occupational health centers registering typical 60-hour work weeks.  I am the proud grandfather of 9 grandchildren and feel I have so much to pass forward – so much to teach.
I also became a member of the LLUCC International Advisory Council. Together with James Slater, Jerry Slater, Jon Slater and all the good friends of the LLUCC, one of the best private hospitals in Berlin and also many good German friends we are on the way to establish a proton treatment unit in Berlin. It is not simply about making a 1:1 copy of the Loma Linda proton treatment center, but to bring the benefits and the spirit of Loma Linda to Europe in order to cure local children, women, and men from cancer. It is my deep desire to pay forward what I have been given.
If you ever get the chance, visit the monument of the Good Samaritan in the yard of Loma Linda University and get a sense of the Loma Linda's spirit yourself.
Thankfully remembering the days of my second birth in Loma Linda.
Update: February 2019
It's been 18 years since Dr. Hallmeyer was treated with proton therapy for his prostate cancer. Today, he's feeling well and working almost full-time, including trips back and forth to Loma Linda to serve as a voluntary faculty member (professor). When Arnd isn't working, he spends his time vacationing in Bradenton, FL.