By wc@@@ - December 1, 2013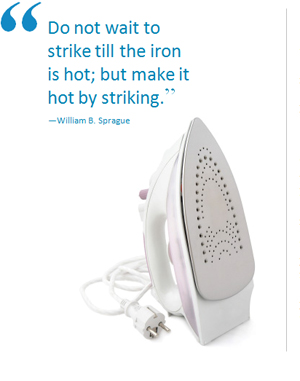 Dear Members:
One of the most important things happening in the proton world right now is our survey of former proton patients; and our members are really stepping up to the plate. We launched the survey on November 5, and 18 hours later we had 1,000 responses. One week later, we were at 2,600; and less than two weeks later, we hit 3,000. As of this date, we are up to 3,500.
To call this a phenomenal response would be an understatement. Putting this in perspective, our last survey in 2010 netted 2,000 returns and our consultants thought that was an exceptional response from a group of our size.
This survey is very different from those in the past. After sending the survey to our membership, we asked the other proton centers to send the survey to their former prostate cancer proton patients as well. Most of them have agreed to do so. Some are just being sent out, and most of these are going by "snail mail" because e-mail addresses of former patients aren't available.
This survey is different for another reason: It is a completely new survey, redesigned from the bottom up, with the objective of providing a simpler format and clear answers to key questions on cure rates and key side effects. The importance of a large response to this survey cannot be overstated.
Studies attacking the use of proton therapy for prostate cancer were published widely in the media. Some physicians and many insurers are using these studies to divert patients from proton therapy or as an excuse for not reimbursing for proton therapy. Our survey has the potential to reverse that trend.
Maybe we should be happy with 3,500 responses. We are. But we'd be even happier with 4,000. Imagine the power of proton patient-reported data from 4,000 former patients. The media will be more likely to carry this story. As the opening quote states, "Do not wait to strike till the iron is hot; but make it hot by striking."
So, if you haven't yet responded to the survey, please be sure to do so. Fill out the online version or download a hard copy and mail it in. Please help us reach 4,000 responses. Every response counts!! In future newsletters we will provide you with specific feedback on the survey results in terms of disease-free survival rates, urinary and bowel issues, and sexual function changes related to proton therapy.
As always, we invite feedback, constructive criticism, and suggestions for improving our newsletter. Just send an e-mail to Deb Hickey at DHickey@protonbob.com.
Bob Marckini
---
To print the BOB Tales newsletter or view the newsletter with a larger font size, click here for the PDF file.
---
in this issue
Initial survey results show excellent disease control and high quality of life after treatment
New drug shows promise in reducing prostate cancer-related pain
Two new prostate screening tests available
Featured member: Orthopedic surgeon chose proton
Personal note from Bob Marckini
Recap of Bob and Deb's visit to LLUMC last month
Upcoming event in Orlando, FL
Sunlight may reduce risk for prostate cancer
Link between vitamin D deficiency and pneumonia
---
membership: 6,701

We added 56 new members last month. Our membership represents all 11 proton centers in the U.S. as well as three in Europe and Asia. Members come from all 50 U.S. states and 35 countries.
special: proton therapy survey
2013/2014 Proton Survey: Update
Tens of thousands of data points have come in, along with literally thousands of comments by survey respondents. Sorting through all this and preparing a report will be the job of a consultant hired by the National Association for Proton Therapy "NAPT", and they certainly have their work cut out for them.
We cannot report on specific numbers at this early stage, but a snapshot provided by the survey company has shown that disease-free survival following proton therapy for prostate cancer is outstanding; sexual function and urinary function results are superb; and, contrary to reports from studies using Medicare billing records, bowel function results are equally impressive. Yes, there are some reported recurrences and side effects that are not insignificant, but thankfully these are very few.
When all the surveys are returned over the next two or three weeks, a consulting firm, Dobson DaVanzo, will begin the process of sorting and analyzing the results. This will take several weeks. A detailed, comprehensive report will then be produced and will be initially reported at the NAPT annual conference in Washington, DC, at the end of March. At that time details will be released to our membership and the media.
Once again, we have a grand opportunity to set the record straight on the value and benefits of proton therapy. If you haven't already done so, please take the survey online or download a hard copy of the survey which you can mail to our data center in Englewood, Colorado. It only takes 15 minutes to complete. If you have any questions about the survey you can contact Becky Campbell at our data center at BCampbell@protonbob.com or by phone at 720-588-2160.
Thank you to all who have already responded and to those who will answer this request over the coming days and weeks. Our voices will be heard, and the results of this major survey cannot, and will not, be ignored.
One member wrote to us and said:
Thank you for allowing me to respond to this survey and express my concerns about the attacks on proton therapy. I have been shouting at the top of my lungs to anyone who will listen about my wonderful proton therapy experience.
I have recommended proton therapy to everyone I've met who has prostate cancer. I am extremely satisfied with my outcome, and am living proof that it works.
Another member left this comment at the end of his survey:
I praise the Lord God of heaven for proton therapy for prostate cancer and thank the Godly people at Loma Linda for it. My pre-treatment PSA was 4.9. My treatment ended in April 2010. My most recent PSA is 0.3. My quality of life is greater now than before treatment on all counts.

If you have any questions about the survey, please contact Becky Campbell at the Proton
BOB Data Center in Colorado: BCampbell@protonbob.com, "720" 588-2160
news report
New Drug Shows Promise in
Reducing Prostate Cancer-related Pain
A recent study suggests that a new drug, abiraterone acetate, helps to reduce pain associated with prostate cancer. The study was led by Ethan Basch, MD, director of the Cancer Outcomes Research Program at the University of North Carolina Lineberger Comprehensive Cancer Center.
"The majority of men with metastatic prostate cancer experience pain that is often debilitating," explained Dr. Basch, "and can have a profound impact on their ability to function, sleep, work, and their enjoyment of life."
The study design provides a path forward, Dr. Basch believes, for future research to utilize patient-centered endpoints. "Not only does it provide essential information about the properties of abiraterone acetate," he suggests, "but it demonstrates the feasibility of rigorously measuring symptoms in a large multi-national study."
---
Two New Prostate Screening Tests Available
A number of prostate-specific antigen "PSA" tests are already available, and some of them raise more questions than they answer for men with prostate issues. For instance, should a patient be subjected to a biopsy based on PSA results? How aggressive is the cancer? Biopsies and subsequent treatment come with their own risks, including bleeding, infection, incontinence, and/or erectile dysfunction.
Two new PSA tests may help to answer questions raised, according to an article in the August 2013 edition of Prevention.com. The first, PCA3, is designed for a man with PSA readings above the normal levels. The test "determines urinary levels of prostate cancer gene 3, which is found only in cancerous prostate cells," according to Prevention.com. "A PCA3 score of 25 or lower means a biopsy likely [won't be] needed; anything higher warrants a closer look."
PCA3 levels differ from general PSA levels because they aren't influenced by certain benign conditions, such as an enlarged prostate."PCA3 testing can be very helpful for men in the biopsy gray area," according to Stuart Wolf Jr., MD, professor of urology at the University of Michigan.
A second test, Polaris, targets men whose prostate biopsies have indicated cancer. The test analyzes genes of cancer cells that have been removed during a biopsy, measuring how quickly the cells divide in order to predict the cancer's aggressiveness. Results from the Polaris test "can help a patient and doctor decide if surgery or other treatments are necessary," the article continues. Clinical studies support the accuracy of the Polaris test in predicting the aggressiveness of a particular cancer.
Both of these tests are widely available. The PCA3 test varies from $250 to $700 with insurance and around $700 out-of-pocket. The Polaris test is typically less than $375 with insurance and about $3,400 out of pocket. Medicare is expected to begin covering the Polaris test in 2014.
spotlight on members
Featured Member Story: Dr. Ken Ford
Ken Ford is an Orthopedic Surgeon from Houston, Texas. Ken was diagnosed with prostate cancer in 2005. "It came as a shock and my homework began immediately," he said. He spoke with as many people as possible [who had also had prostate cancer] and found that most had undergone surgery and a few had radioactive seeds.
After four rounds of "unpleasant biopsies," Ken decided that it was time to make a decision. Several of the people he'd spoken with had experienced impotence and daily urine leakage; so, surgery was eliminated as an option. Ken remembers an old saying from his surgical training, "there is no surgery that you can't screw up."
Out of the blue, an old friend from the U.S. Air Force called and told Ken he had elected to have proton therapy for his prostate cancer. He had visited and chosen Loma Linda University Medical Center in California for his treatment. It was around this time that Ken also read Bob Marckini's book, "You Can Beat Prostate Cancer: And You Don't Need Surgery To Do It." He told us, "it was one of my most valuable pieces of 'homework,' and it was a strong influence on my final treatment decision."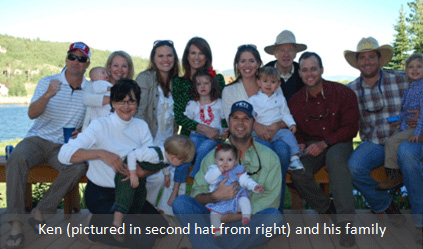 Shortly after speaking with his friend and reading Bob's book, Ken inquired with LLUMC and received their orientation package. He began his proton treatment late in 2007.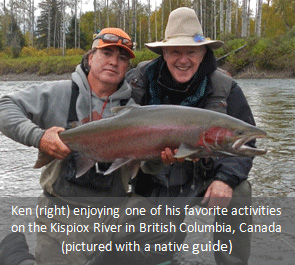 "As I recall, treatments began at 5 a.m. and I was fortunate enough to get a 5:15 a.m. slot. Treatment was a breeze. I also had use of their beautiful workout facility, which was included with my treatment," Ken said.
It has been almost six years since Ken's proton treatment and he recently celebrated his 70th birthday with his four children and eight grandchildren. He tells us he feels great; has had no significant side effects; and his latest PSA, taken just last month, is 0.4.
"I have no regrets and am so grateful that my old neighbor from Edwards Air Force Base came along at the perfect time and convinced me to visit Loma Linda," said Ken.
---
Member Feedback
Here is an excerpt from a recent e-mail message sent to us by John L. Richard, Ph.D. "Cave Creek, AZ":
Ten years ago I had hope and expectations, not only for the Christmas Season celebration of the birth of Christ by those of us who are Christians, but I also had feelings and thoughts regarding my status at that time as I was about halfway through my proton treatment at LLUMC. I finished in mid-January of 2004. My four month post-treatment PSA went from a pre-treatment PSA of 8.7 to 0.8. Needless to say, my hopes and expectations were fulfilled even at that time.
My PSA continued to drop at every six month test thereafter until it reached a non-detectable level in just over two years post-treatment. As I celebrate ten years out of treatment, my PSA is still non-detectable. Now, my hope and expectation is that more people have access to proton therapy and can enjoy the same fortune that I've had.… During this Christmas season, I give thanks for all of those at LLUMC who contributed to my good fortune and to all of you who keep us informed through the BOB newsletter and protonbob.com website. Thank you! Merry Christmas and God bless!
Stuart Cooper "Roslyn Heights, NY" sent the following message to Bob regarding his thoughts on the best measurement of success for prostate cancer treatment:
I have had no side effects whatsoever from my [proton] treatment and I consider myself the "poster" child for proton treatment for the younger generation. I do have a couple of overview observations:
1. As a volunteer on one of the BOB patient reference lists for potential proton patients to contact, I have seen the number of incoming calls go down. I don't know what to make of this"it might be that men want more recent opinions rather than someone who was treated nine years ago. Or, are there less men considering proton therapy?
2. From my point of view the most important aspect of proton treatment to focus on is the post-treatment side effects. We do have a tough record to defend on cost of proton treatment and cure rates. What we don't have a tough record to defend is side effects post-treatment. I believe this aspect of the entire treatment time line has to be highlighted. If I am representative of most proton patients, then as a whole we have had little, if any, post-treatment medical issues that cost the health system nothing. Personally, I have had NO medical costs, other than well care, incidental to my prostate cancer diagnosis since my treatment in 2005.
I truly believe that we should exploit the fullness of time and the totality of cost over the years as the best message of the success of proton therapy. I think this view gets lost in the noise of instant gratification cure rates and cost, with the greatly diminished side effects over the years being lost in the shuffle. Ultimately I chose protons for the quality of life I believed it would provide post-treatment. I was 1,000% correct in my belief and I could only know this nine years post-treatment. This is the message that should resonate.
George Handel "Parrish, FL" sent this message last month:
I turned 73 yesterday"thanks to LLUMC and proton radiation! It will be 18 years in February since my fantastic journey began.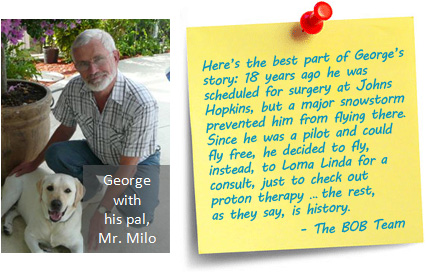 making a difference by giving back
A Note from Bob Marckini
Until I became involved in helping Loma Linda raise money for proton research, I had a very different perspective on charitable solicitations.
Sure, I dutifully made my weekly contributions at church, threw a few dollars into the Salvation Army bucket, and occasionally wrote a check to St. Jude's hospital or some other worthy cause. But the contributions were generally small and often given begrudgingly. The ubiquitous mail solicitations promptly went into the waste basket, unopened. "Why do they keep sending me this stuff?" I thought.
Today I have a whole different perspective on charitable giving. Through my involvement in the LLUMC Advisory Council along with other BOB members who serve on the Council, I've had the opportunity to see firsthand how important every contribution is to advancing basic or clinical research programs. I've seen how the money is used to cure diseases, save lives, and preserve the quality of life. I've also seen firsthand how important philanthropy is to institutions like Loma Linda University Health. And I've learned how difficult it is to raise money, and how very hard it is to ask someone to contribute to a charity you are connected with or feel passionately about.
I have come to believe that everyone at some point in their lives should involve themselves with a charity by volunteering their time and committing their resources. You'll learn a lot about how necessary charitable giving is, and you'll help the institution with their important work. You'll also feel good about yourself.
I have a whole new respect for people who work in philanthropy. It's a tough, tough job to persuade people to part with their money for a cause you represent. My Loma Linda experience has opened my eyes.
Today the amount my wife and I give to church and charities is far greater than what we have given in the past, and we now give with enthusiasm. We no longer automatically dump mail solicitations in the trash. We contribute annually to Loma Linda and have designated part of our estate plan to Loma Linda for proton research. We do this enthusiastically now because we have seen how desperately the money is needed and what good our contributions can do.
Last May, BOB member and good friend, Chuck Kubicki, announced at a Loma Linda board meeting that an endowed chair was being named after me. No one was more shocked at hearing this than I. I'm now even more committed to supporting proton research at Loma Linda. As 2014 approaches and you are planning your year-end giving, I hope you will consider making a contribution to the R.J. Marckini Chair for proton research. You can honor loved ones or friends by making the gift in their honor. A letter will be sent notifying them of your gift.
Most of us have far more material things in our lives than we need, and we continually add to them. This is a great opportunity to divert a portion of that spending to a better place; to do something that will have a lasting benefit for generations to come. Please consider giving something back.
---
How the Martells Give Back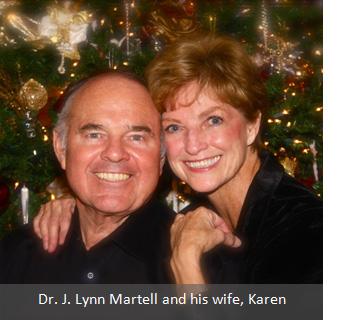 Two of the most giving people we know are Dr. J. Lynn Martell and his wife, Karen. They are continually doing for others, and much of what they do is behind the scenes. When they are not comforting patients or doing charitable work, they are preaching from the Bible or leading prayer groups. We also learned that Lynn and Karen take tithing seriously and literally, just like it says in the Bible, i.e. giving 10% to the church. Wow!
Thirteen years ago, while Bob was in treatment in December 2000, Lynn announced at a Wednesday night meeting that everyone at the meeting who was going to be away from home was invited to have Christmas dinner at his home. He later went home and told Karen of his announcement. Instead of hitting him with a frying pan, she said, "What a terrific idea. Let's do it."
This year will be the 14th time Lynn and Karen have hosted Christmas dinner for proton patients in their home. And just like in previous years, the entire Martell family"children, grandchildren, and in-laws"will be helping out by serving food and providing entertainment. And just like in previous years, tables will be set up in just about every room in the house"including the bathroom.
---
Inspired to Give: Frank and Alida Freda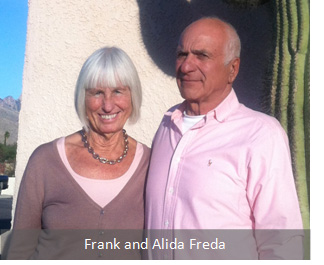 Frank and Alida Freda recently made a contribution to the Robert J. Marckini Chair for proton research. Along with their donation, they included the following letter:
After reading about the matching challenge by the Sequoia Foundation in the November issue of BOB Tales, we were twice as motivated to send $1,000 to proton research at Loma Linda for the year 2013. And, we hope to donate additional dollars for the year 2014.
My PSA alarm went off with a reading of 6.04 in April 2013. A biopsy concluded that I should undergo treatment sooner rather than later. After exploring all the options, it became a no-brainer for me to have proton therapy at Loma Linda University Medical Center.
The determining factors were all the positive testimonials from BOB members and others who passed through the doors at LLUMC. And much of this would not have been available without Bob Marckini's easy-to-read book, the BOB Tales newsletters, and the BOB's continuous shared research. We are the beneficiaries of LLUMC and BOB's contribution to proton therapy.
In addition, my wife of 45 years was highly motivated and she became my "proton driving force" to complete the nine weeks of treatment, physically and mentally.
Due to personal commitments at home, we could not be a part of the on-site "radiation vacation" group; instead we drove 300 miles round trip every day of the week, clocking 15,000 miles total. With no side effects, it was worth every mile and every dollar at the pump.
In October 2013, I finished my treatment and our daily driving routine, feeling overjoyed that I had chosen proton over all of the other treatment options. As mentioned, my PSA was 6.04. My monetary contribution for the year 2014 will be $1,000 for every point drop in my PSA reading, beginning in February.
Hoping for the ultimate result of 1.00, everybody will be a winner, plus a double winner through the Sequoia Foundation! We thank everyone for their participation in spreading the word about proton therapy!
"Frank "and Alida" Freda
---
Matching Gift Promises to Double Yours
We mentioned last month that the founder of the Sequoia Foundation for Achievement in Culture and Education is encouraging fellow BOB members to match a $25,000 challenge grant. The foundation will match gifts of $1,000 or more to the Robert J. Marckini Chair, up to a total of $25,000, until December 31, 2014. Please take this opportunity to double the impact of your year-end gifts and beyond!
---
If you are inspired to give or have questions about the various ways to support proton research efforts, please contact Paul Arceneaux in the Office of Philanthropy at 909-558-3581 or parcenea@llu.edu.
You may also contribute by check. Just make your check out to "LLUMC Proton," specify Robert J. Marckini Chair in the memo, and mail it to: Loma Linda University Medical Center, Office of Philanthropy, P.O. Box 2000, Loma Linda, CA 92354.
Or, donate online. Specify Robert J. Marckini Chair under "Designations."
To learn about naming Loma Linda University Health in your will or trust, please contact the Office of Planned Giving at (909) 558-4553 or legacy@llu.edu.

events
Last Month: LLUMC Advisory Council Meeting
On Monday, November 18, the Proton Advisory Council gathered at the Drayson Fitness Center on the Loma Linda University campus. The Council"a group of 21 former proton patients"provides feedback to LLUMC on a number of issues, but its focus is primarily on raising funds for proton therapy research. The Council meets twice yearly, and stays connected by conference calls between meetings.
Roy Collins
Last month's meeting began with a devotional prayer by Dr. Lynn Martell. He next introduced a former proton patient and BOB member, Roy Collins.
Roy walked to the front of the room, smiled, and then raised the microphone to the lower part of his neck. As he began to talk, we realized he was, in fact, speaking through a mechanical vibrating device. He explained to us that he had been treated for cancer of his vocal chords at another hospital years earlier. And although the sound we heard was somewhat mechanical, it was just seconds before everyone in the room heard Roy's heart take over, and we were captivated by his presence and his message.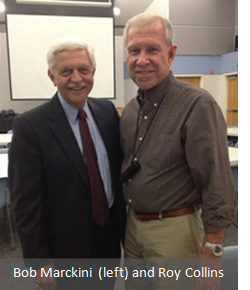 Roy explained that he had had his larynx removed due to the cancer. He then received 33 weeks of radiation which caused severe collateral damage. The device on his neck was an electric larynx, powered by a battery, to help him communicate. "During my treatments, my wife, Dawn, was my caregiver," Roy said. He went on to talk about how Dawn's love and caring gave him immense peace and comfort during such a difficult time in his life. He told us how he'd initially struggled with the thought of losing his voice after surgery and that he'd never be able to talk to her again. His last words before going under were, "I trust you, Lord."
When Roy was later diagnosed with prostate cancer, he didn't want radiation again. "My doctor suggested IMRT," he told the group, "but I thought about the damage it might cause." He chose proton therapy shortly after reading Bob Marckini's book. "Bob did all the work for me," Roy smiled.
"I'm so thankful for the Loma Linda magic," Roy said. He also talked about how the supportive staff and the group meetings, along with the health focus, were vital to his recovery. And unbelievably, his final comment to the group was, "If God offered to give me back my voice, I wouldn't trade it for what I have now. Through this process, I found God, support, a new outlook … I changed personally … I even cry at movies."
Looking around the room when Roy finished speaking after his testimony, there wasn't a dry eye in the room.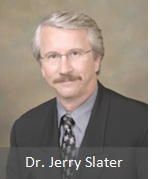 Dr. Jerry Slater
Dr. Jerry Slater provided an overview of several basic and clinical research programs underway including clinical trials on lung, breast, esophageal, pancreatic, liver, and prostate cancer. He spoke about work underway on stereotactic radiosurgery for central nervous system disorders, pain management, as well as breast cancer, lymphomas, sarcomas, and prostate cancers. He then commented on some groundbreaking research, which was reported by five Loma Linda faculty members at the recent ASTRO "American Society for Radiation Oncology" meeting.
Here are some highlights:
Exploring Fewer Proton Treatments for Prostate Cancer:
We refer to this as the "hypo-fractional program." Excellent results are being seen using a smaller number of treatments and larger doses of radiation. Researchers reported excellent disease control with no increase in side effects. This research will result in significantly shorter treatment times for prostate cancer patients in the future.
Using Protons to Create More Accurate Computed Tomography "CT" Imaging:
Significantly greater treatment planning accuracy can be achieved by using protons to create CT scans. Initial results show the experimental proton-based scanner produces highly accurate image reconstruction without the interference that is typically seen in X-ray CT imaging.
Determining the Most Accurate Predictor of Prognosis:
Three methods of determining prognosis in prostate cancer patients receiving proton therapy were evaluated: biopsies, percentage of cancer volume "PCV", and maximum involvement of biopsy cores. Researchers found that while all three have value, PCV best predicts disease-free survival. This information will be used to clarify potential risk factors and helps determine optimal treatment strategies.
Improving Protection of Organs During Proton Treatment for Liver Cancer:
Research has shown that protons not only improved protection of liver tissues as compared to IMRT, but also offered improved sparing of the spinal cord, bowel, and kidney.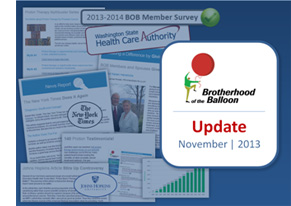 Bob Marckini
Bob Marckini reported that the BOB has grown this year by 550 members "6,700 in total". This year's BOB initiatives have included the Wash-HCA letter writing campaign, the Proton Therapy Mythbuster Series, the BOB Facebook and blog projects, the ever-expanding "Life After Proton" initiative as well as our newest and most important project, the 2013/2014 member survey.
Bob reported that 2,413 BOB members have contributed to proton research at Loma Linda and that the Robert J. Marckini Chair currently stands at $1.84 million. To date, BOB members have contributed $6,430,000 with $2,750,000 planned. This is a total of $9,180,000!
Bob also spoke about some of the challenges we are facing. These include: Losing connection with a growing number of members due to changed addresses, e-mails, and phone numbers, etc.; the growing number of insurance denials and the complex and difficult appeals process; and battling the negative press on proton therapy from recent studies.
Dr. Richard Hart, Rachelle Bussell, and Dr. Roger Hadley
Dr. Richard Hart, LLU Health President, spoke about a comprehensive new vision and new direction for LLUH, along with several new initiatives including a contract signed with Siemens for a new cyclotron.
Dr. Roger Hadley, chief of staff, LLU Medical Center, and Rachelle Bussell, Sr. V.P. for Advancement, spoke about LLUH's new "grateful patient program" called Healing Hands where patients who feel especially thankful for their care have the opportunity to "give back" by supporting Loma Linda in a variety of ways.
---
Last Month: LLUMC Wednesday Night Meeting
On Wednesday, November 20, Bob Marckini and Deb Hickey had the privelege of attending another LLUMC Wednesday night meeting. The event was hosted by Dr. Lynn Martell and held at the Drayson Fitness Center.
The meeting began on a high note "literally". Dr. Martell played a video of former proton patient and BOB member, Sam Long "Meridian, MS", who had written a song about his experience of proton therapy at Loma Linda in the spring of 2012. The humorous lyrics detailed his daily treatments and activities while in treatment. As usual, the evening continued with proton "graduates" taking the stage to tell their stories. They raved about their extraordinary treatment experiences and thanked Loma Linda for their care.
After the graduates were introduced, Dr. Martell then welcomed former proton patient and BOB member, Frank Lee, and his wife, Sirpa "Margarita, CA", to the front of the room. If you recall, Frank and Sirpa were featured in our September newsletter for remembering Loma Linda in their estate plan. Yet again, the Lees came forward to announce that they would be contributing $1,000 as part of the latest matching gift challenge initiated by the founder of the Sequoia Foundation.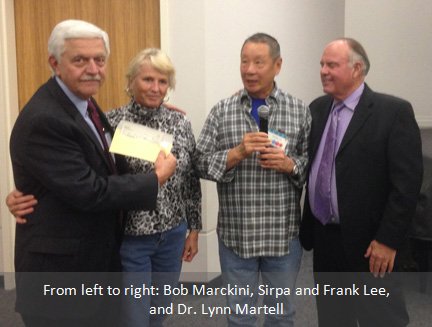 A few minutes later, former proton patient, BOB member and "chairman" of the Tuesday night LLUMC potluck dinners, Clyde Marsh "Riverside, CA", stepped forward and presented Dr. Martell with a check for $600. The money was raised during the previous night's dinner.
Dr. Martell then invited Bob Marckini to center stage. Bob began with his usual amusing presentation and update.
The night was full of laughter, surprises, and interesting information and updates; and, it was yet another successful bonding experience. Deb was able to finally meet, face-to-face, one of her long time "e-mail buddies," BOB member, Scott Wilcox "Morro Bay, CA", and his wife, Anne. She shook hands with other members, new and veteran, while Bob was able to personally thank attendees for their support.
Sam Long's Story
Sam was diagnosed with prostate cancer in 2011. He told us, "Most people from my area go to Birmingham, Alabama, and have robotic surgery." But, Sam had watched many of those men suffer from debilitating side effects. "I have four friends right now who have had recurrences of their cancer. One of them has horrible incontinence problems. The others had similar results which are almost too graphic to explain. It is so sad."
So, when Sam was diagnosed, he researched treatment options extensively. Also, he believes he had an advantage: 13 years ago, Sam was diagnosed and treated for stage 3 colon cancer. "It should have killed me," he says. So, when he was diagnosed with prostate cancer, he didn't "freak" like he did the first time, as many do when confronted with the big "C." Sam told us, "The Lord saved me the first time, so I figured He'd save me again"and He did!"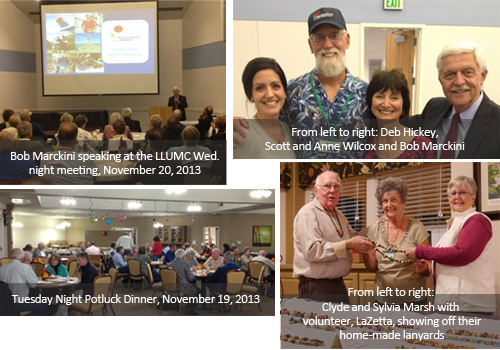 Potluck "Patriarch," Clyde Marsh
He calls himself a "senior volunteer to proton patients," but Dr. Martell refers to Clyde as the "patriarch" of the Tuesday night potluck dinners. Others refer to Clyde as the "glue" that holds the potluck dinners together. Clyde was treated for prostate cancer at Loma Linda six years ago. Since then, he and his wife, Sylvia, have dedicated themselves to keeping the Tuesday night potluck dinners running smoothly.
The patient-run potluck dinners, consisting of about 60-80 patients at a time, take place every week at the Loma Linda Springs apartment community "where many patients stay throughout their treatment". Volunteers assume various responsibilities "mayor, treasurer, entertainment, kitchen leader, fund raising, etc.". Clyde's overall goal is to help patients "step back from their medical situation" and take part in an exciting night of fellowship and entertainment.
Clyde and Sylvia create custom address books for all attendees, so that they can easily stay connected throughout their treatment. At each dinner, Clyde also distributes an envelope to attendees requesting donations to support costs "paper plates, napkins, food, water, etc.". Donations also cover the costs of graduate gifts. They also fund raise by selling BOB shirts and caps, and "home-made" beaded lanyards "made by the patients' wives". "When we are comfortable with our balance," Chuck told us, "we donate the rest to the hospital." Chuck has surmised that the potluck group has contributed more than $12,000 in the last six years.
Upcoming: Loma Linda Comes to You

When: Sunday, January 26, 2014 at 1:00 p.m.
Where: Florida Hospital Creation Conference Center,
601 East Rollins Street, Orlando, FL
Details: LLUH President, Dr. Richard Hart, will present a whole institution report on both the university and hospital front. BOB members are encouraged to attend and meet with Dr. Lynn Martell following the main presentation. A complimentary light lunch will be served. For more information or to RSVP please contact Jo Anna Codington at 909.558.5360 or jcodington@llu.edu.
---

Upcoming: NAPT 2014
When: March 31 – April 3, 2014
Where: Ritz-Carlton, Pentagon City, Washington, DC
Details: The National Association for Proton Therapy's second annual National Proton Conference is where proton community leaders and clinicians will meet to discuss "Advancing Cancer Treatment Access Worldwide." Click here to register.
health & nutrition
Sunlight May Reduce Risk for Prostate Cancer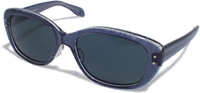 Physician researchers at the Northern California Cancer Center, located in Fremont, suggest that exposure to sunlight may reduce the risk of developing prostate cancer by half.
It is known that sunlight increases the risk of skin cancer, but sunlight also activates vitamin D, which, physician researchers say, may help to reduce prostate cancer risk for men.
Researchers compared two groups of men: 450 patients with advanced prostate cancer and 450 men with no cancer. Sun exposure was measured by comparing skin pigmentation of the underarm with that of the forehead.
Analysis of the results suggested that high sun exposure may reduce prostate cancer risk by as much as half. However, the researchers were quick to point out that men should not necessarily sunbathe deliberately to reduce their cancer risk. Normal outdoor exercise, paired with adequate vitamin D in the diet, should be sufficient to afford protection, they believe.
---
Researchers Discover Link Between Vitamin D Deficiency and Pneumonia
A report recently published in the Journal of Epidemiology and Community Health suggests that higher levels of vitamin D may be protective against pneumonia in an aging population.
The study, which looked at 723 men and 698 women between 53 and 73 years of age, was part of the larger Kuopio Ischemic Heart Disease Risk Factor Study, conducted by researchers at the University of Eastern Finland Institute of Public Health and Clinical Nutrition.
Those enrolled in the study were free of pneumonia and other pulmonary diseases at the beginning of the study and were followed an average of 9.8 years. Blood samples were taken at enrollment and analyzed for serum 25-hydroxyvitamin D3 levels. During the study, 73 subjects were hospitalized at least one time for pneumonia.
Increasing age was associated with a greater risk of pneumonia. However, researchers also found that subjects whose serum 25-hydroxyvitamin D3 levels fell within the lower third of the group had a 2.6 times greater risk of contracting pneumonia when compared to those with the highest levels. The study also found that men were more likely to develop pneumonia than women, and smokers more than non-smokers.
This study is the first to show a relationship between low levels of vitamin D and higher risks of contracting pneumonia among aging populations. Earlier studies had shown an association between reduced vitamin D levels and increased infection risk.
In northern countries like Finland, sun exposure is greatly reduced during winter, requiring residents to supplement their diets with vitamin D. The study researchers suggest that vitamin D deficiency is a public health problem and suggest additional research.
---
Exercise Benefits Brain Health
Exercise reverses brain decay. Several human studies show that aerobic exercise increases the size of the cognitive centers of the brain and improves memory. One study showed that 1 – 2 years of aerobic exercise increased hippocampal volume by 2% which was accompanied by improved memory function. Considering hippocampal volume usually shrinks with aging, this improvement in size should be viewed as substantial.
---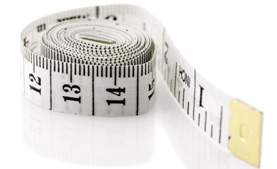 Gut Check
Losing that spare tire isn't just about getting healthy"it's about living a better life and feeling your best, too. Let's face it"few things feel as good as a little extra room in your waistband. And looking in the mirror and liking what you see is a pretty great feeling, too.
Last Chance: Holiday Discount
The holidays are here. Is there is someone special in your life that may benefit from reading Bob Marckini's book? Do you have a son, brother, or other family member who is at higher risk for developing prostate cancer? Do you have a friend, co-worker, or acquaintance who might be interested in learning about proton therapy for prostate cancer? Well, now is the time to place your order. We are offering a special holiday discount"it's outlined below.

To place an order, simply send an e-mail to DHickey@protonbob.com with the quantity that you desire. Remember, proceeds from book sales are used to help fund our efforts and to support proton therapy research through the Robert J. Marckini Endowed Chair.
---
Reader Feedback
BOB member, Chuck Sampson "Surprise, AZ", often hands the book out to friends and acquaintances. After receiving a shipment of books last month, Chuck sent the following e-mail message to Bob:
The books will be put to good use in spreading the proton therapy word as often as I have the opportunity. I still firmly believe it's the only sensible way to go for the best outcome. Prostate cancer still remains a difficult disease to make an informed decision on, without your book it would be even more difficult. You have saved many lives by taking the time to author your book and you continue with your constant professional efforts. You are a huge force in curing many men. God bless you for your total participation in spreading the word.
BOB member, Charles Reinhardt "Franklin, TN", also does his part to spread the word with the use of Bob's book:
I have a beach house on the Outer Banks of North Carolina. We rent by the week, late spring to early fall. For this upcoming season, I have a display of Bob's book set up in the living room with a sign that reads, "Proton"Harder on Cancer, Easier on You! The book is free; the information"Invaluable!!!"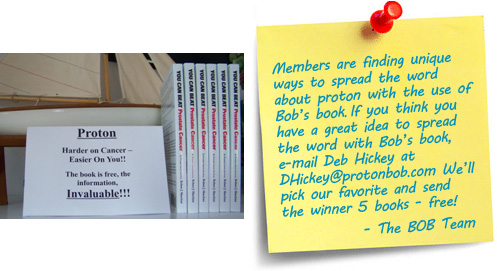 ---
Amazon Reader Reviews
We have almost reached 170 reviews on Amazon! Here is a recent review:

From a 10-year prostate cancer survivor, by Fred Agnir
If it were within my power to do so, I would nominate Robert J. Marckini for the Nobel Prize. With his passion, unselfishness and strong sense of mission, he has done more than anyone I can think of to instill hope and encouragement to present and future prostate cancer patients. As a prostate cancer survivor myself, I echo what he and everybody else says that his book is one we wish we had when we were first diagnosed. Despite his obligatory disclaimer, you can safely take his work as having the weight of professional medical advice. Aside from his diligence and skill with data and language, he has the advantage of being a former patient unencumbered by the limitations imposed on people within the medical and pharmacological communities. "The Rev. Dr. Federico I. Agnir
---
Did you find Bob's book helpful?
Please help us to spread the word and educate others about proton therapy. If you found Bob's book to be helpful in making your proton treatment decision, please post a review on Amazon.
Once you are logged into your Amazon account, click here and click the "Create your own review" button. NOTE: Reviews can be just a few sentences"it only takes a few minutes. And, don't forget to rate the book from 1 to 5 stars!
Don't have an Amazon account? No problem. Sign up here"it's free.
---

Available in Amazon's Kindle format, Barnes & Noble's NOOK Book, and Apple iBook format
Buy the Kindle version now for $9.99.
Don't have a Kindle? No problem"just download the free Kindle reading software for your smart phone or tablet.
Buy the NOOK Book version now for $9.99.
Don't have a NOOK? No problem. Just download the free NOOK reading app for your Android smart phone, tablet, or iDevice.
Buy the book from the iTunes store for $9.99 for your iPhone, iPad, or iPod Touch in iBook format.
The hard copy version of You Can Beat Prostate Cancer is available online at Amazon, Barnes & Noble and LuLu Press.
Proceeds from book sales are used to help fund BOB efforts and to support proton therapy research.
Ask about our bulk discount for hard copy books for anyone interested in spreading the word about proton therapy: DHickey@protonbob.com
odds & ends
Meet Jane Hoag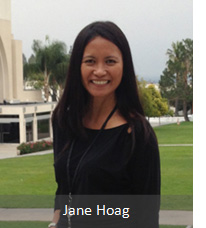 We are happy to announce that Dr. Lynn Martell has finally found the help he so desperately deserves. Jane Hoag joined the patient services team at Loma Linda earlier this year as Lynn's assistant and personal liaison between the patients, property owners (housing needs), various speakers and the patient services department. She came from Providence Oncology and Hematology in Portland, Oregon where she was a financial counselor.
Jane told us, "I am blessed to be working at LLUMC where I am surrounded by amazing staff as well as amazing patients."
Congratulations, Jane"we know the team is glad to have you on board!
---
Special Series:
Did You Know THIS About Your Body?
The human body is a treasure trove of mysteries, one that still confounds doctors and scientists about the details of its working. It's not an overstatement to say that every part of your body is a miracle. Last month, we gave you five interesting facts about your body. Below are five more"again, most will surprise you.
| | |
| --- | --- |
| | The three things pregnant women dream most of during their first trimester are frogs, worms, and potted plants. Scientists have no idea why this is so, but attribute it to the growing imbalance of hormones in the body during pregnancy. |
| | The life span of a human hair is 3 to 7 years on average. Every day the average person loses 60-100 strands of hair. But don't worry, you must lose over 50% of your scalp hairs before it is apparent to anyone. |
| | The human brain cell can hold 5 times as much information as an encyclopedia. Your brain uses 20% of the oxygen that enters your bloodstream, and is itself made up of 80% water. Though it interprets pain signals from the rest of the body, the brain itself cannot feel pain. |
| | The tooth is the only part of the human body that can't repair itself. |
| | Your eyes are always the same size from birth but your nose and ears never stop growing. |
Next month, we'll post five more interesting facts about the human body and continue doing so for the next seven months.
on the lighter side
Last Month's Brain Teaser: What's Your Name?
Mr. Jones got off a train in Chicago. While passing through the station, he met a friend he had not seen in years. With his friend was a little girl.
"Well, I certainly am glad to see you," said Mr. Jones.
"Same here," said his friend. "Since I last saw you I've been married"to someone you never knew. This is my little girl."
"I'm glad to meet you," said Mr. Jones. "What's your name?"
"It's the same as my mother's," answered the little girl.
"Oh, then your name is Anne," said Mr. Jones.
How did he know?
First of all, here are some familiar groaners taken from the same book:
"A beggar's brother died. But the man who died had no brother. How is this possible?"
And: "A big Indian and a little Indian stood on a hill. The little Indian was the big Indian's son, but the big Indian wasn't the little Indian's father. How was this possible?"
Had enough yet? The answer to last month's brain teaser is:
Mr. Jones's friend was a lady"and her name was Anne!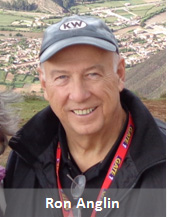 Last month's brain teaser winner is Ron Anglin of Virginia Beach, Virginia. Ron finished his proton treatment in May of 2010. His current PSA is 0.3 and he's feeling well. The photo to the right shows Ron visiting Machu Picchu in Peru last December.
Congratulations, Ron"your signed book is on the way!
---
New Brain Teaser
What do the following names represent?
Bo Derek, JFK, Elizabeth II, Henry VIII, and Pappy Boyington?
Answer next month: The first to send an e-mail to DHickey@protonbob.com with the correct answer will receive a signed copy of Bob's book. No cheating by using the Internet!
---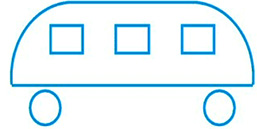 Preschool Test
I already knew I was dumber than the fifth graders, but now it's the preschoolers!
Which way is the bus traveling"to the left or to the right?
Can't make up your mind? Look carefully at the picture again.
Still don't know? Preschoolers all over the United States were shown this picture and asked the same question. 92% of them gave this answer. "The bus is traveling to the left."
When asked, "Why do you think the bus is traveling to the left?" They answered: "Because you can't see the door to get on the bus."
How do you feel now? I know … me too.
---
Quote of the Month
"In politics stupidity is not a handicap."
"Napoléon Bonaparte
final thought
The Charles Schultz Philosophy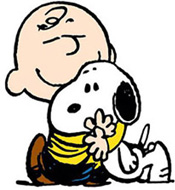 The following is the philosophy of Charles Schulz, the creator of the "Peanuts" comic strip. You don't have to actually answer the questions. Just ponder on them.
Name the five wealthiest people in the world.
Name the last five Heisman trophy winners.
Name the last five winners of the Miss America pageant.
Name ten people who have won the Nobel or Pulitzer Prize.
Name the last half dozen Academy Award winners for best actor and actress.
Name the last decade's worth of World Series winners.
How did you do?
The point is, none of us remember the headliners of yesterday. These are no second-rate achievers. They are the best in their fields. But the applause dies. Awards tarnish. Achievements are forgotten. Accolades and certificates are buried with their owners.
Here's another quiz. See how you do on this one:
List a few teachers who aided your journey through school.
Name three friends who have helped you through a difficult time.
Name five people who have taught you something worthwhile.
Think of a few people who have made you feel appreciated and special.
Think of five people you enjoy spending time with.
Easier? The lesson: The people who make a difference in your life are not the ones with the most credentials, the most money … or the most awards. They simply are the ones who care the most.
---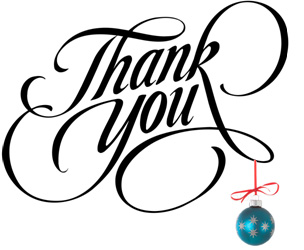 Once again we would like to thank all who have helped us with this "ministry" this past year. To list all the names would be near impossible. But it includes our computer support people, calling campaign volunteers, insurance supporters, sponsors, website and Internet helpers, snail mail supporters, e-mail distributor, newsletter helpers, care-givers and administrators at all the proton centers, the proton consortium, NAPT, and especially our members. Thank you all for all you do to help us grow and get our message out. We are making a difference.
We would like to wish you all a Merry Christmas, a Happy Hanukkah, and a holiday season filled with peace and joy, and we hope the coming year will be overflowing with all the good things in life.
And, of course … Low PSAs to all!
Bob Marckini and Deb Hickey
You can download this month's BOB Tales in PDF format to your computer by "right-clicking" ("control-clicking" on Mac) and going to the "Save Target As… " option on the menu that pops up.
---
NO MEDICAL ADVICE: Material appearing here represents opinions offered by non-medically-trained laypersons. Comments shown here should NEVER be interpreted as specific medical advice and must be used only as background information when consulting with a qualified medical professional.