Myth #7: There are no studies or documentation that support the success or superiority of proton therapy for prostate cancer.
We often hear from recently diagnosed men that their urologist is pressuring them to have surgery. When they bring up the subject of proton, they are often told some of the stories we have already addressed in Myths 1 through 6, such as "Proton therapy is 'experimental' or 'investigational,'" or "it's no better than advanced forms of conventional radiation."  Another story they are often told is that there are no published studies, documentation, or articles on proton therapy for prostate cancer showing the benefits, or no statistics to back-up claims of proton's superiority. This is not true.
Over the past 23 years there have been dozens of studies and articles on this subject. A partial list is below.
What do these studies, surveys, and articles tell us? They tell us that:
Proton therapy is the most precise form of radiotherapy available today.
Two to three times less radiation is deposited on healthy tissue with proton than with any form of photon (X-ray) radiation.
Higher doses of radiation do a better job of killing cancer, and, contrary to experience with conventional x-ray radiation, when proton doses are increased there is no corresponding increase in collateral damage and side effects.
Cure rates with proton therapy are at least as good as surgery or conventional radiation.
Genitourinary and gastrointestinal complications are lower with proton therapy than with other treatment modalities.
Sexual function is better preserved with proton therapy.
Proton therapy is an excellent treatment choice for young men with prostate cancer.
Here is a sampling of some of the studies, articles, and surveys relating to proton therapy for prostate cancer:
Ten Year Study: Proton Therapy for Prostate Cancer: The Initial Loma Linda University Experience.

Int. J. Radiation Oncology Biol. Phys. Vol 59, No. 2, pp, 348-352, 2004. Jerry F. Slater, M.D., et. al.

Fifteen Year Report: Clinical Applications of Proton Radiation Treatment at Loma Linda University: Review of Fifteen-year Experience.

Technology in Cancer Research and Treatment ISSN 1533-0346, Vol. 5, No. 2, April 2006. Jerry D. Slater, M.D.

Randomized Trial Comparing Conventional-Dose With High-Dose Conformal Radiation Therapy in Early-Stage Adenocarcinoma of the Prostate: Long-Term Results From Proton Radiation Oncology Group/American College of Radiology 95-09.

J Clin Oncol 28.2010, American Society of Clinical Oncology. Anthony L. Zietman, M.D. et. al.

Conformal Proton Beam Radiation Therapy of Prostate Cancer.

Prostate Cancer Communication Newsletter. Vol 23 No 1, March 2007. Carl J. Rossi Jr. M.D.

Urinary functional outcomes and toxicity five years after proton therapy for low- and intermediate-risk prostate cancer: Results of two prospective trials.

Acta Oncol. 2013; April; 52(3):463-469. Randal H. Henderson, et. al

Early Outcomes From Three Prospective Trials Of Image-Guided Proton Therapy For Prostate Cancer.

Int. J. Radiation Oncology Biol. Phys., 2010. Nancy P. Mendenhall, MD et. al.

Proton-beam Rx reduces prostate cancer recurrence.

Oncology NEWS International. Vol. 19 No. 1

Clinical evidence demonstrates good disease control with minimal early adverse events.

By Ed Susman | January 20, 2010

Study: Majority of Men Report Being Sexually Active After Proton Therapy for Prostate Cancer.

WebMD Health News Nov. 5, 2010

Proton Therapy for Prostate Cancer. Oncology.

June 2011. Bradford Hoppe, M.D. MPH, et. al

Proton-beam Rx Reduces Prostate Cancer Recurrence. Clinical Evidence Demonstrates Good Disease Control With Minimal Early Adverse Events.

Oncology News International, Vol. 19 No. 1. January 2010

Proton Beam Therapy Affects Less Healthy Tissue Than Standard Radiation.

Medical Edge Newspaper. Mayo Clinic. January 27, 2012

Hypofractionated passively scattered proton radiotherapy for low- and intermediate-risk prostate cancer is not associated with post-treatment testosterone suppression.

Acta Oncol 52(3):492-7 (2013) PMID 23477360

A Phase II Study of Hypofractionated Proton Therapy for Prostate Cancer.

Acta Oncol (2013) PMID 23398594. Yeon-Joo Kim, et. al.

Outcomes in Men with Large Prostates (>60 cc) Treated with Definitive Proton Therapy for Prostate Cancer.

Acta Oncol (2012) PMID 23244673. Lisa McGee, et. al

Erectile Function, Incontinence, and Other Quality of Life Outcomes Following Proton Therapy for Prostate Cancer in Men 60 Years Old and Younger.

Cancer. September 15, 2012. Bradford S. Hoppe, MD MPH, et. al.

2009 Survey of Brotherhood of the Balloon Membership Reports 94% Cure Rates and Minimal Side Effects.

The BOB represents more than half the men who have been treated with proton therapy for prostate cancer.

Second Survey of Brotherhood of the Balloon Membership Using Standardized EPIC Survey Tool Confirms Results of 2009 Survey.

Reported at ASTRO and NAPT.
The graph below titled, "Rectal Sparing," shows considerably higher doses of radiation to the rectum with IMRT vs. proton.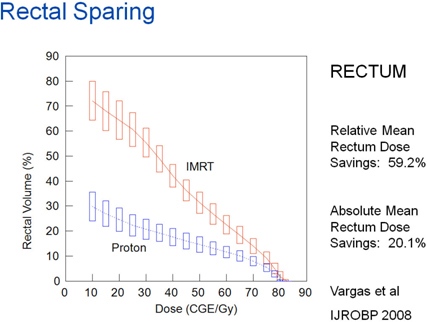 The chart below titled, "Dose Escalation Trials Support the Use of Protons for Prostate Cancer," shows better disease control with proton and significantly lower GI (gastrointestinal) toxicity.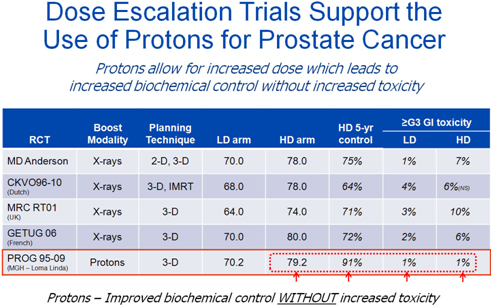 Are More Studies Really Needed?
Dr. James Cox, a prominent researcher from MD Anderson commented on this subject in an article in the Journal of Clinical Oncology. In the article he pointed out the fact that there is considerable documented evidence that with protons, there is two to three times less radiation deposited on healthy tissue, and radiation delivered to normal tissue causes damage to this tissue, and the severity of damage increases with increasing dose.
He states that, "We doubt that many of us, while healthy, would agree to receive, for example, 25 Gy to a large fraction of our brain or abdomen in exchange for some thousands of dollars, with no known or credibly hypothesized medical benefit. If we would not, how can we ask our sick patients to do so? Once proton beam therapy has become clinically available, is not the burden of proof on conventional x-ray therapy? Should not its advocates have to demonstrate that the cost savings achieved by using x-rays are not accompanied by undesirable additional morbidity? Do the users of x-ray therapy have the evidence to support such a claim?"
Myth #7: BUSTED!
Any questions? Just ask.